Top 10: Sea freight companies in the world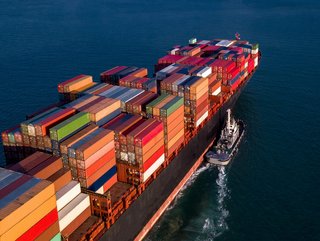 "the global container fleet is forecast to grow by 6.3% in 2023 and by 8.1% in 2024" - Allianz
Supply Chain Digital breaks down the Top 10 sea freight in the world, ranked by their revenue including NYK, C. H. Robinson, and Hapag-Lloyd
With it estimated that 80% of goods are being transported by ships, the volume of seaborne trade doubled between 1990 and 2021 from four billion to 11 billion tons. While recent statistics post-pandemic have seen a decline in freight rates, "the global container fleet is forecast to grow by 6.3% in 2023 and by 8.1% in 2024," noted Allianz.
With this in mind, see below Supply Chain Digital's Top 10 sea freight companies in the world…
Nippon Yusen (NYK)
Founded in 1885, Nippon Yusen (NYK)'s mission is 'bringing value to life'. Following the merger of Mitsubishi Mail Steamship Company and Kyodo Unyu Kaisha, NYK expanded its operations from the seas of Asia to the world. Today, NYK is a comprehensive global logistics enterprise that takes pride in supporting people's lives and livelihoods.
CEO: Takaya Soga
Revenue: $18.63bn
Website: Nippon Yusen
Evergreen Marine Corporation
Founded in 1968 by Yung-Fa Chang with a business philosophy of 'creating profits, caring for employees, and giving back to society', Evergreen Marine Corporation over the last 55 years has achieved great success in the shipping industry. Today the company covers five continents around the world, as well as manages and operates more than 200 full-container vessels.
Founder: Yung-Fa Chang
Revenue: $20.89bn
Website: Evergreen Marine Corporation
C. H. Robinson
Founded in 1905, C. H. Robinson is dedicated to improving supply chains for global companies. As part of its mission C. H. Robinson solves logistics challenges from the most simple to the most complex. Today, C. H. Robinson makes 20 million shipments annually in 150 countries and six continents.
CEO: Dave Bozeman
Revenue: $23.1bn
Website: C. H. Robinson
Hapag-Lloyd
Founded in 1970 following the merger of Hamburg-Amerikanische Packetfahrt-Actien-Gesellschaft and Norddeutscher Lloyd (NDL), Hapag-Lloyd is a worldwide shipping service proud of its high quality and environmental standards. Today the company operates 258 modern ships and has 13,800 employees in more than 399 offices and 135 countries.
CEO: Rolf Habben Jansen
Revenue: $26.36bn
Website: Hapag-Lloyd
Mediterranean Shipping Company (MSC)
With its roots dating back to 1970 in Brussels, the Mediterranean Shipping Company (MSC) was founded by Captain Gianluigi Aponte with just one cargo ship - the NV Patricia. Today, the company has grown and diversified its operations to become a leader in container shipping with a special focus on long-term partnerships.
CEO: Soren Toft
Revenue: $28.2bn
Website: Mediterranean Shipping Company (MSC)
Ocean Network Express (ONE)
Only six years old, Ocean Network Express (ONE) has quickly climbed the ranks to become one of the largest sea freight companies in the world. ONE currently has a fleet of 205 vessels - including 35 super-large ships - and serves over 120 countries around the world.
CEO: Jeremy Nixon
Revenue: $30.1bn
Website: Ocean Network Express (ONE)
Kuehne + Nagel International AG
Shaping the world with its strong determination to connect people and goods through innovative and sustainable logistics solutions, Kuehne + Nagel International AG is one of the oldest logistics and sea freight companies dating back to 1890. Over its 130-year history, Kuehne + Nagel International AG has evolved from a traditional shipping company to one that offers highlight specialised solutions for major industries worldwide.
CEO: Stefan Paul
Revenue: $48.16bn
Website: Kuehne + Nagel International AG
CMA CGM
Celebrating 45 years of operations, CMA CGM is dedicated to sustainable globalisation through better-balanced international trade to foster both economic and social development, while respecting the planet. Playing a pivotal role in the global trade industry CMA CGM understands the importance of creating value for our environment, for our customers and for our staff members.
CEO: Rodolphe Saadé
Revenue: $74.5bn
Website: CMA CGM
Maersk
Founded in 1904, Maersk is another long-time player in the shipping industry. Seeing the industry adapt and change, Maersk has seen the industry become increasingly complex. As such its strategic vision is to become the global integrator, offering truly integrated logistics solutions that connect, protect, and simplify the supply chain.
CEO: Vincent Clerc
Revenue: $81.5bn
Website: Maersk
COSCO
Founded in 1961 as a Chinese government agency, COSCO has a total fleet of 1372 vessels and has invested in 56 terminals all over the world. Its mission is to globalise the Chinese economy, consolidate advantageous resources, and develop diversified industrial clusters.
CEO: Lirong Xu
Revenue: $84.13bn
Website: COSCO
DHL
Founded in 1969 by Adrian Dalsey, Larry Hillblom and Robert Lynn, the three men revolutionised the world of logistics. As the world's leading logistics company, DHL employs 600,000 people in more than 220 countries and territories to help its customers reach new markets and grow their business. DHL offers a wide range of sea freight services including Full-Container-Load (FCL); Less-Than-Container-Load (LCL); Buyers Consolidation & Purchase Order (PO) Management; Temperature-Controlled Loads; Ocean Bulk; and Non-Containerised Load (NCL).
CEO: John Pearson
Revenue: $86.42bn
Website: DHL