Spinnaker named Green Supply Chain Leader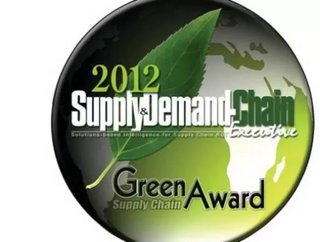 Follow @Ella_Copeland Supply chain consultants Spinnaker have been named as a green supply chain leader for the fourth time since 2008. The accolade, p...
Supply chain consultants Spinnaker have been named as a green supply chain leader for the fourth time since 2008.
The accolade, presented by Supply & Demand Chain Executive magazine, recognises companies that are making sustainability a core part of their supply chain strategy by providing supply chain solutions and assisting their customers in achieving measurable sustainability goals.
Spinnaker has surpassed an earlier goal to reduce solid waste by more than 50 percent in addition to exceeding each of their annual goals over the past three years related to energy usage in the company's production facilities.
More recently, Spinnaker have also implemented enhanced recycling programs at several of their supply distribution centres, where programmes shifted items from the waste stream back into raw materials, generating thousands of dollars in positive ROI for the organization.  These practices will be put to the test as the firm continues its expansion in January of 2013 with a new facility in Columbus, Ohio.
 SEE RECENT STORIES FROM THE WDM CONTENT NETWORK:
FTA: 'reduce fuel duty to kickstart the economy'
Emirates launch new flights to South Australia
Transportation Workers to set Global Agenda in Toronto
"We take pride in the acknowledgement of Spinnaker's long-standing commitment to leveraging green, sustainable supply chain practices within our own organization," said Rob Benson, Managing Principal at Spinnaker.
"As a supply chain services provider, we are equally committed to leveraging our expertise to help our clients achieve critical sustainability objectives for their operations, particularly when they have not yet fully unlocked the potential benefits, both environmentally and financially."
Spinnaker's dedication to green supply chain solutions has become even more central to their services, particularly in the area of Returns Solutions, where they have developed a more strategic focus and expertise as part of its VAWD services. 
"Spinnaker really does put ideas into action when it comes to green supply chain practices," said Jeff Jorgensen, Vice President of Supply Chain Execution at Spinnaker. "It's the domino effect that is exciting.  The more we show clients tangible results from sustainable business practices, the easier it becomes to see the ripple effect of that success and impact across their organization."

*Story taken from PR Newswire