How will supply chain get tanks to front line in Ukraine?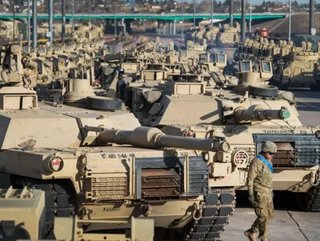 President Joe Biden has announced the US will send Ukraine 31 M1 Abrams tanks (pictured), its premier battle tank, Similar moves are afoot in the UK and EU. But the supply chain challenges involved in getting -- and deploying -- these tanks to the frontline are onerous.
The US, UK and EU are providing Ukraine with tanks, but what are the procurement & logistics challenges of getting tanks from manufacturers to front line?
When we talk of supply chain, it is usually with civilians in mind – retail, commerce and industry. Over the past two years the civilian supply chain has come under attack – first from Covid and then from Vladimir Putin, who has weaponised commodities such as oil and grain by undermining their supply, in a bid to destabilise and divide NATO allies.
On Supply Chain Digital, we have explored in depth how retail supply chains in Ukraine are coping in the face of war. Our five-part report makes for depressing, shocking but ultimately uplifting reading.
Yet what of the military supply chain? How does this operate? In recent days we have heard much about how the US, the UK and the EU have answered Ukraine President Volodymyr Zelenskyy's pleas for foreign tanks to help Ukrainian forces repel the expected Russian spring onslaught.
So let's focus on tanks. How are the Western allies going to procure these, exactly? And once procured, how will the tanks get from the manufacturers to the front line line in Ukraine. Then how will Ukrainian military logisticians keep them fuelled and maintained?
Procuring tanks for Ukrainian forces
In early January 2023 the US Department of Defense (DoD) announced the procurement of Abrams tanks to help Ukraine defeat Russian aggression. The tanks will be procured through the DoD-backed Ukraine Security Assistance Initiative (USAI). It is a $400mn contracting process designed to train, equip, and advise Ukrainian forces, as well as support its cyber defences and strategic communications.
In terms of procurement, alongside the USAI is the Presidential Drawdown authority (PDA). It is through the PDA that the US government delivers equipment to Ukraine from DoD stocks. The USAI differs from the PDA, in that it's a body through which the US procures new military capabilities.
The current USAI support package includes:
31 Abrams tanks, with 120mm rounds
Eight tactical vehicles to recover equipment
Support vehicles and equipment
Funding for training, maintenance, and 'sustainment'
Alongside the battalion of Abrams tanks provided by the US, a European consortium is also committing to provide two battalions of Leopard 2 tanks to Ukraine in the near term.
Ukraine is set to receive battle tanks from Germany and other Western countries, following a fierce debate among EU allies.
The German government is to provide 14 Leopard 2 tanks "as a first step". Many EU countries have bought German-made Leopard 2 tanks for their own defences, and a number of these countries – including Poland, Finland and Denmark - were keen to send a proportion of these to Ukraine.
But the re-export of the tanks is conditional on consent from Germany, who holds the export licence. Until recently it had not given this consent, but crucially that has now changed.
In the UK, meanwhile, efforts are underway to supply Ukraine with 14 British-made Challenger 2 tanks – the British Army's main battle tank – alongside 30 AS-90 155mm self-propelled guns.
Some UK politicians have expressed concern that the provision of these tanks will leave the UK's own defences ill-equipped, and the debate around this shines a light on the UK military procurement process.
Responding to this very concern in a recent political debate, Baroness Goldie – a Minister of State at the Ministry of Defence – sought to reassure opposition colleagues by saying the government was "very closely engaged with industry" and that it was "not in a silo in respect of industry supply and security of the supply chain".
She went on to explain that the government was "working with partners to ensure that the [defence] industry is holistically able to understand demand, and to plan accordingly to supply it".
In short, the procurement of military equipment faces all the problems of civilian supply chains, but layered on top of this are significant political and bureaucratic challenges.
Supplying and maintaining tanks for Ukrainian forces
Supplying the Ukrainian forces with weapons and military equipment brings into play a key factor in the success of any military campaign: logistics.
What was the decisive factor in the outcome of World War II? The Russian winter, which literally froze Germany's military supply lines solid, and meant the 3 million troops Hitler committed to his Russia campaign were starved of food, weapons and equipment.
Similarly in the Ukraine war, government leaders and military planners from both sides have learned that logistics is a decisive factor, and that modern warfare depends on agile and adaptive supply chains to connect the manufacture of weapons and equipment to the front lines.
The Modern War Institute (MWI) knows more about the logistical challenges of war than most. The MWI is a US government resource for military instruction, and it studies recent and ongoing conflicts to help prepare present and future leaders to prevail in battle.
In a recent report on the Ukraine War, the MWI explores the nature of 'contested logistics', something it defines as: "An environment that directly targets logistics operations, facilities, and activities, both at home sites and in transit to the war zone."
As part of this report, the MWI created models of supply chains for different battle scenarios, using an off-the-shelf supply chain simulation package.
The MWI focused on Russian military needs, rather than Ukrainian, but the lessons learned apply to both sides. Using historical data, the MWI said the Russians are "logistically stretched". One insight, for example, is that "Russia does not have enough trucks to meet logistic requirements more than 160km beyond railhead supply dumps".
It concluded that the "projection of force depends on the ability of supply chains to operate effectively in contested logistics environments".
The MWI says the success, or failure of Russia's invasion will hinge on its ability to procure enough trucks to transport required supplies, enough ships and railroads to move supplies and the general security of those supply chains, given opposition efforts to disrupt supply lines wherever possible.
Similar problems will face Ukraine, as it seeks to deploy tanks from the US, UK and EU.
Thankfully, the shipment of tanks from NATO allies to Ukraine will not be 'contested'. If it were, then we'd have World War III on our hands. However, Russia has threatened to prevent such shipments by military means, and this is worrying talk. So at the moment, getting tanks into Ukraine is not a logistical challenge, but a political one.

Once in Ukraine, the tanks must be deployed, a logistical challenge that will be bitterly contested. The majority of the Ukrainian road network is composed of narrow roads winding through forests and small towns, with bridges crossing rivers and streams along the way – routes that, militarily, are easy to disrupt. So securing bridges will be key for Ukraine, not only to deploy their tanks on the front lines but also to supply them with fuel and spare parts.
It's pure speculation, but it seems likely the MWI's research into contested logistics will be shared with Ukraine. Its logistics modelling for the Russian campaign shows what combination of vehicles and supply routes Russia needs to support in order to maintain combat operations through to the end of its campaign.
In the same way, map-based logistics models can show Ukraine where facilities are located, and where routes are available to move equipment – tanks, in this case – to meet demand.

The same scenario pretty much applies to the supply of fuel and spare parts to keep the tanks running.
Ultimately, even if Ukraine does clear all of these logistical hurdles, and gets western tanks to the front lines, it still faces another significant problem: training.
Ukraine lacks even basic combat training instructors for its troops, and these western tanks are highly complex and sophisticated pieces of equipment. Presumably, and hopefully, the USAI will help here, as will equivalent military bodies from the UK and EU.
As the MWI says, winning any conflict comes down to "agility of distribution", which must be matched by "end-to-end resourcing, production, and human capital integration".
Civilian supply chains are stress-inducing enough. One can only imagine the pressure under which military logisticians operate.