GXO Pilots "Industry-First" Fashion E-commerce Automation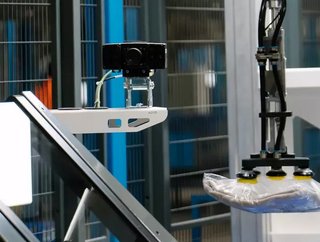 Trial of KNAPP AG automated robotic fulfilment solution will solve common issues with automated fashion fulfilment systems
GXO Logistics is piloting an "industry-first" automated robotics system at its fashion e-commerce warehouse in the Netherlands. 
The trial of the Pick-it-Easy Robot station, from KNAPP AG, is tailored to one of GXO's key global customers, and aims to overcome the challenges often associated with automating e-commerce fulfilment in the fashion industry. Unlike other categories, where goods are uniformly or regularly shaped, clothing and fabrics pose unique challenges for robotic grippers and handling systems. 
KNAPP's solution leverages an AI-based vision system to identify each product and locate the optimal gripping point and speed. The robotic arm then places items into a pocket conveyor, where the products are sorted, grouped and routed to packing stations. Due to the nature of apparel, the Pick-it-Easy Robot station can deploy a patent-pending retry process if goods become misaligned on the conveyor or otherwise out of sync. The robotic arm locates the misplaced item and re-processes it from the start. 
"The adaptability demonstrated by our Pick-it-Easy Robot is proving up to the challenge of complex ecommerce warehouse environments," said Markus Posch, KNAPP Product Manager for robot systems. "We're excited to build on our milestone collaboration with GXO within the fashion sector."
Sandeep Sakharkar, Chief Information Officer, GXO, said: "As a leader in logistics innovation, we're constantly exploring automation that can transform distribution and order fulfilment processes. The successful launch of the Tilburg pilot has allowed us to ensure that our customers get the greatest benefit and value from this technology."
GXO says it plans to expand the use of technology in Tilburg with an additional four robots, following a successful initial run.
E-commerce Automation and Robotics Heats Up
GXO is the latest logistics leader to pilot sophisticated automation systems to meet snowballing demand for e-commerce fulfilment. In June, DHL announced a multi-million dollar agreement with Locus Robotics to automate its picking and restocking processes as part of its Accelerated Digitalisation Strategy. DHL will implement around 2,000 Locus robots for warehousing and distribution in the next 18 months, which will mostly be used for the fulfilment of e-commerce orders. 
FedEX subsidiary FedEx Ground, meanwhile, is trialling a new AI-enabled robotics system to handle thousands of small e-commerce packages daily in the US. The Robotic Product Sortation and Identification system can autonomously pick, identify, sort, collect and containerise small packages at scale, a process that is traditionally processed and sorted manually. The system can handle a wide array of routine packages, including individual polybags, tubes, and padded mailers, and has been introduced to accommodate the rapid growth in e-commerce.