Fulfilment firm OPLOG supplying hope to earthquake victims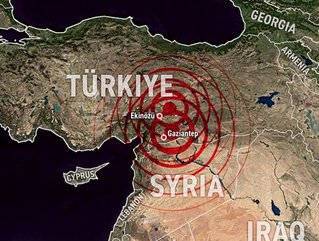 In Turkey, an estimated 3,000 buildings collapsed across seven different provinces, including public hospitals. The catastrophe is estimated to have caused US$34.2bn in damage – roughly 4% of the nation's 2021 GDP. Turkey-based fulfilment company OPLOG is among those businesses helping co-ordinate efforts to distribute aid, and to help the country rebuild its shattered infrastructure.
Halit Develioglu, CEO of Turkey-based fulfilment firm OPLOG, discusses the challenges of supplying earthquake victims with provisions and services
On February 6, Turkey and Syria were rocked by a series of devastating earthquakes that claimed the lives of around 50,000 people, with tens of thousands more suffering serious injury.
In Turkey, an estimated 3,000 buildings collapsed across seven different provinces, including public hospitals. The catastrophe is estimated to have caused US$34.2bn in damage – roughly 4% of the nation's 2021 GDP.
The quakes damaged major highways, airports and seaports, impacting the transportation of road, air and ocean cargo in the region. This has had a major impact on production, and on the trade of commodities including steel, chemicals and plastics.
Turkey's largest seaport, Iskenderun Port was badly damaged, and operations there remain suspended, with officials hoping to reopen the port in three months' time.
This means global shipping firms, including Maersk, have rerouted freight bookings destined for Iskenderun port to alternative ports, both in Turkey (Mersin) and abroad, such as Port Said in Egypt.
OPLOG in frontline of quake support services
Here, Supply Chain Digital talks to Istanbul-based Halit Develioglu, founder and CEO OPLOG, a Turkey-based business that offers robotic-powered fulfilment services for e-commerce businesses. OPLOG has been in the frontline of companies offering logistical and sourcing support to the many communities affected by the disaster.
"It has been an extremely difficult time for our country," says Develioglu.
"Natural disasters like these are not only impossible to predict but have a devastating effect on families and communities.
"Everyone knows somebody who has been impacted by the tragedy, so that makes it very hard. It's also the reason we want and continue to do everything we possibly can to contribute to the relief efforts."
Given OPLOG's expertise in fulfilment and warehouse management, it was was one of several organisations chosen to manage the fulfilment and distribution of humanitarian aid.
In the past month, its team of volunteers have been responsible for managing 10 warehouses in the Kahramanmaraş region of the country including Pazarcık and Elbistan – both devastated by the quake.
"In a scenario like this, establishing what aid goes where is essential," says Develioglu. "So when our team got to the warehouse units they immediately began organising aid supplies.
"Packages can be a real mix of medicine, food, and clothing, so these all need to be separated to ensure proportions are evenly distributed among those affected.
"It can be frustrating, as all you want to do is start loading supplies onto trucks. But when it's all hands on deck it's amazing how quickly things start to fall into place. Then it becomes a case of maintaining momentum."
OPLOG working to help provide quake relief centres
Away from warehouse operations, Develioglu says OPLOG was also working closely with government organisations, running and constructing relief centres closer to the city centre.
"Not everyone can get to a warehouse," he says, "so these centres allow us to quickly transport and restock aid more efficiently. We communicate with the volunteers managing the centres and pull the necessary supplies to ensure a consistent flow of relief is available."
He adds that setting up communication channels has been another major priority.
"Thousands of people were cut-off by the disaster, so being able to connect with them directly has been vital," says Develioglu. "To achieve this we were able to set up hotlines for tens of thousands of earthquake victims, through which they receive all the information they need.
"Setting up an emergency call centre network has meant we can learn exactly what aid people need, where they need it, and direct them straight to the centres where this aid is readily available."
Develioglu says that "there is still a huge amount to do" but is confident that "with the continued support and contribution from everyone involved we can help the 16 million citizens affected to rebuild their lives".
He adds: "It's our responsibility to step up and contribute to the relief and recovery efforts in any way we can.
"Whether it's through donations or volunteering, we can all play a role in helping those affected rebuild and recover from this disaster."
About OPLOG
OPLOG Fulfilment Services provides logistics and order fulfilment services, including warehousing, inventory management, order processing, shipping, and returns management.
Its advanced warehouse management system allows businesses to manage their inventory in real-time and track orders, and its shipping solutions are designed to be cost-effective and efficient, with options for domestic and international shipping, as well as expedited and standard delivery.
OPLOG also offers value-added services, including kitting and assembly, customisation, and product labelling.