Emirates SkyCargo's entire freighter fleet move to new cargo terminal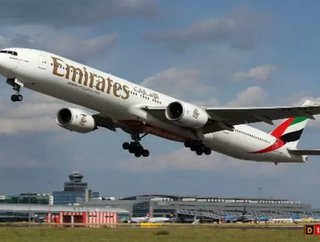 Follow @SamJermy Follow @SupplyChainD A Boeing 777 Freighter from London Heathrow carrying a full load of more than 100 tonnes of cargo, yesterday mar...
A Boeing 777 Freighter from London Heathrow carrying a full load of more than 100 tonnes of cargo, yesterday marked the official start of operations from a brand new cargo terminal in the UAE for Emirates SkyCargo.
Construction of phase one of the cargo terminal and supporting facilities began in July last year, and with its completion operations are now in full swing with 250 staff on site. The newly opened terminal is equipped with start-of-the-art technology and will be able to handle 700 000 tonnes of cargo annually and have 500 staff when phase two, scheduled to be completed by September this year, comes into operation. The terminal has the potential for further expansion to reach 1 million tonnes. 
Nabil Sultan, Emirates Divisional Senior Vice President, Cargo, said: "The start of operations at DWC today is a major milestone for Emirates SkyCargo. Our various teams, along with many of our partners and stakeholders, have been working very hard over the past few months to complete phase one of the project.
"We have also held numerous trials to test the readiness of every aspect of the facility and the movement of cargo between the DWC and Dubai International to ensure a smooth transition and enable us to meet our customers' expectations,
"We are very pleased that we have met our timelines and the move has gone according to plan. This new facility gives us the additional space and capacity required to manage the growth of our cargo business and have a dedicated, modern and efficient hub for our freighter operations, which contribute 35 percent of Emirates SkyCargo's total revenue," he added. 
Emirates SkyCargo currently has a fleet of 12 freighters, 10 Boeing 777 Fs and two Boeing 747-400 ERFs, which operate to more than 50 destinations around the world. Cargo arriving on freighters will be transported by dedicated trucking services between DWC and Dubai International Airport along the Emirates Road (E-611) which will be the main corridor for connecting cargo between freighters and the passenger fleet. The current trucking fleet numbers 47, which will be increased relative to future growth requirements. 
The newly opened terminal is equipped with state-of-the-art technology. It features a fully automated material handling system which is one of the world's first to have an automated Quick Dolly Transfer System that enables quick transfer of 6 Unit Load Devices (ULDs) simultaneously. 
In addition, an automated pallet handling system, advanced storage system, offices, workstation areas, modern communication and security systems and many amenities for employees, including canteens have been installed. The perishable area has been designed to handle about 140 000 tonnes of cargo per annum, featuring three large areas each with different temperature ranges. 
The terminal infrastructure also includes 45 truck docks and 80 truck parking spaces, in addition to 12 aircraft stands directly in front of the terminal.