DP World to provide logistics for 2023 Ryder Cup in Italy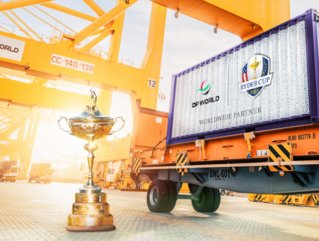 DP World is to be the worldwide partner for the 2023 Ryder Cup.
Dubai-based logistics multinational DP World widens ties to world of golf with deal to provide logistics for upcoming Ryder Cup in Italy
Dubai-based logistics giant DP World is to be the worldwide partner for the 2023 Ryder Cup.
The event poses complex logistical challenges involving hundreds of partners and contractors, and DP World says it will "deploy our end-to-end smart logistics solutions and ensure the smooth running of the match".
The biennial golf tournament between Europe and the US will be held in Italy, from 29 September to 1 October. Services the company will provide for the tournament include multi-modal transport and cutting-edge digital solutions.
DP World will deliver from the UAE to Italy a total of 18 40-foot and 20-foot containers of goods to support the tournament.
This will include electrical and solar power supplies to power "a more sustainable Ryder Cup". The equipment will be deployed during the event by Aggreko, a leading provider of mobile and modular energy solutions.
DP World paving way for sustainable Ryder Cup
Also being shipped are 90 mobility scooters to support golf fans with limited mobility to enjoy the match.
The Ryder cup deal cements DP World's ties with golf; it is also the headline partner for European golf's main tour, the DP World Tour.
Commenting on the partnership, Rashid Abdulla, CEO and MD Europe, DP World, said: "The Ryder Cup is one of the world's greatest sporting events, and is a complex logistical operation. We are proud to be playing an integral role in delivering such an incredible event for the millions of sports fans around the world.
"The partnership will allow us to showcase our global logistics network. With our seamless market access capabilities and best-in-class services across Europe, we are uniquely positioned to support the events partners and contractors with faster, smarter, and more sustainable ways of delivery.
"Our smart logistics continue to support the growth of sports globally in reaching new audiences and markets with solutions spanning an interconnected global network across 75 countries and six continents. By partnering with selected Ryder Cup suppliers, DP World will expedite the flow of facilities needed to stage the sporting spectacle."