Deliveroo: Logistics lessons other brands can learn from the convenience king
By By Jon White, MD at InXpress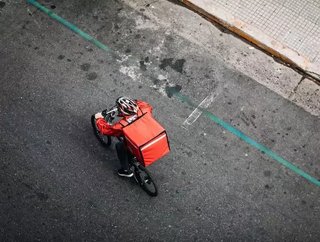 The UK's takeaway sector was worth £6.2 billion in 2017, with 57% of Brits using food delivery apps. While Just Eat may currently be the most recogni...
The UK's takeaway sector was worth £6.2 billion in 2017, with 57% of Brits using food delivery apps. While Just Eat may currently be the most recognisable (80% of Brits are aware of the brand), Deliveroo comes a close second at 76%, despite not coming into existence until 12 years after Just Eat, in 2013.
In the last month, Google searches for the online giants have shot up, due to the current crisis, meaning more people than ever are shopping and ordering online. According to Google Trends searches, in the last two weeks, Deliveroo has had a 75% increase in Google searches.
There's no denying that, Deliveroo has shaken up the online delivery landscape as we know it - not just for food brands, but for other retailers too. What can other retailers learn from Deliveroo, to ensure they meet the increasing demands of their customers? 
How does Deliveroo work?
CEO and co-founder Will Shu initially came up with the concept when he grew increasingly frustrated with the lack of food options when he had to eat lunch at his desk.
Image credit: Feedough
Shunning the traditional business model that other food ordering companies like Just Eat were using; Deliveroo in effect, created their own model, known as hyperlocal on-demand, incorporating aspects of the aggregator business model with the marketplace and logistics business model.
Deliveroo's main operational channels are its mobile app and website. Customers set their location by entering their postcode, and are presented with a wide choice of eateries near them. Once they've placed their order, they pay via a secure checkout, and are then continuously notified about the status of their delivery.
Their 30,000 riders on bikes, motorbikes, and scooters are positioned no further away than 2.2km from eateries, to meet Deliveroo's 30-minute window.
Deliveroo boasts 45,000 users every day - and with 80% of food delivery users rarely switching between platforms, this presents a huge opportunity for all restaurants that take part. In fact, Deliveroo has claimed that their restaurant partners' revenues increase by 30% each year.
Accessibility and convenience have never been more crucial
Deliveroo shook up delivery services as we know them. Its app platform led to an entirely new customer experience - and other retailers have started to take note of this.
Dominos Pizza invested in tech interfaces to make its ordering process a more seamless one. The convenience of its app now rivals Deliveroo's, with customers able to track the progress of their food in five steps: order placed, prep, bake, quality checks, and out for delivery. Customers can now even place an order in advance, specifying a time they want it delivered to their door. 
Deliveroo's business model has shown the growing demands of consumers, who want a wide choice of high-quality products available, and able to be delivered directly to them as soon as possible - all with just a lift of the finger.
ASOS - amongst other retailers - has responded to this demand, by launching ASOS Instant back in 2017. Initially available in London only, this has since expanded to Birmingham, Leeds, and Manchester. Customers can browse products from the 850 brands ASOS sells, and have their new outfits delivered to their doors between 6pm-10pm on the same day they placed the order.
You need to entice consumers with deals
Deliveroo knew that customers wouldn't accept extortionate prices. That's why it only charges a delivery fee of £2.50, so users can still enjoy any type of meal they want at a normal price, without losing the restaurant feel.
When it comes to implementing fast delivery, you can't charge prices that are through the roof. Take, for example, Amazon - Prime members can get same-day delivery at no extra charge to them (they pay £7.99 per month), or other users can pay £5.99 for eligible items (selected post-codes available). 
While customers expect there to be a surcharge for this convenience, if they find it to be too expensive, they will look elsewhere - as there will always be somewhere that offers lower prices.
Customers want their loyalty to be rewarded
Deliveroo launched a loyalty card that customers can use for a monthly fee of £8.99, or an annual fee of £89, which negates the need for them to pay the £2.50 delivery fee. 
While the likes of supermarkets have been using loyalty cards for years, other retailers have begun to offer their own too. For example, Paperchase's Treat Me card rewards users with £5 vouchers once they've spent £50, and even give them treats on their birthdays.
Similarly, Starbucks and Costa have also released their own loyalty apps, enabling users to earn points every time they pay, so they can save up and claim free food and drinks. 
We now live in an age where customers expect to be 'rewarded' for being loyal, whether this is through discounted products, or free delivery.
Continuously innovate through new technology
If Deliveroo has taught retailers anything, it's to never be complacent. Even now, they continue to invest in innovative strategies to ensure they stay one step ahead of their competitors. 
For example, they were able to reduce their delivery time by 20 minutes, with the help of the 'Frank' algorithm, which was created through predictive technology that could evaluate the most efficient way to distribute orders based on the location of customers, riders and restaurants.
Ultimately, the meaning of 'convenience' has changed for consumers in recent years, and Deliveroo has played a part in this. Yet, their stats prove it's working - they see 650% revenue growth every single year. For retailers who are able to adapt to their customers' changing needs with regards to accessibility, convenience, and cost-effectiveness, there are huge rewards to be had.