Coach and Bus Live 2013, October 2-3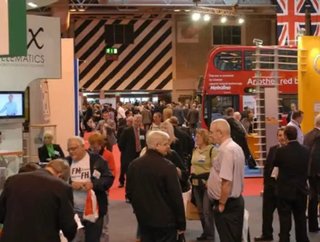 Follow @JosephWilkesWDM A top industry event is just weeks away. Industry showcase Coach & Bus Live 2013 takes place on October 2-3 at the NEC Aren...
A top industry event is just weeks away.
Industry showcase Coach & Bus Live 2013 takes place on October 2-3 at the NEC Arena, Birmingham, UK, bringing together the top names in the world of transport and vehicle products.
The show will include leading and manufacturer stands where the latest vehicles and products will be on display and experts on hand to provide information.
For tech bods the Technology Zone will focus on the latest wizardry on offer to the logistics professional.
The Live Showcase Arena Supported by CPT, routeone and Trader Online, will enable visitors to see the latest vehicles in a totally unique way. Vehicles being showcased are supplied by ADL, Plaxton, Volvo, Irizar UK, MAN Bus and Coach, Dawsonrentals, Optare, Moseley PCV, Arriva Bus & Coach, King Long and BASE.
On large screens there will be video footage showing interviews with senior representatives of the suppliers, along with footage of the vehicles in action. A panel of experts will consider the features of each vehicle looking at aspects such as design, functionality and technology as well as passenger comfort. They'll also be an opportunity to ask questions and get involved from the audience viewing gallery.
Appearing in each of the live shows over the two days are Roger French OBE, former managing director at Brighton & Hove Bus and Coach, Ray Stenning, design director at Best Impressions and Ian Morgan, deputy chairman at Wellglade Group and chairman of the Confederation of Passenger Transport UK (CPT). They are joined by Claire Walters, chief executive officer at Bus Users UK and Colin Moore, operational technical executive at CPT.
The experts will be hosted by former British Superbike Championship commentator and show presenter Barry Nutley. Over the years he has fronted many live shows and displays. Barry describes himself as a huge bus and coach enthusiast and has congratulated the organisers for coming up with such an original concept.
Mark Griffin, Show Director, said: "It's fantastic that we have some brand new vehicles for visitors to see. Listening to the views of the expert panel will be entertaining and informative - another first for the industry. We are really looking forward to putting on a great event which will certainly be different."
The Live Showcase Arena will feature a mix of 11 buses and coaches. Visitors will be able to learn more about the key features on each vehicle. Three shows will take place in the heart of the show at 1130hrs, 1330hrs and 1500hrs, in front of an audience viewing gallery daily.