Automation & robotics – the future of sustainable logistics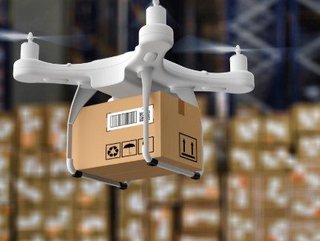 Robotics, automation, and eventually drones, will be the new norm for supply chain fulfilment capabilities.
Net-zero targets are being driven by robotics & automation tech in warehouse logistics, though drone delivery has some way to go before widespread adoption
With supply chains typically being responsible for 80% of an organisation's carbon emissions, businesses are feeling the pressure to decarbonise logistics, and technology is the biggest single enabler when it comes to meeting net-zero targets.
Yet, technology is more advanced in some areas than others. Take drones, for example. Back in May, Walmart announced the largest drone-delivery system in the US, in a move designed to give it competitive advantage in last-mile delivery.
The retail giant is seeking to expand drone deliveries to six US states. Up to 4 million households will be able to take delivery of groceries and supplies by remote-controlled drones by the end of the year, according to Walmart.
The company says it will charge $3.99 per drone delivery, with a weight limit of up to 10lb, and will apply the safety principle: 'If it fits safely, it flies'.
According to David Guggina, Senior VP of Supply Chain, Innovation & Automation at Walmart, participating stores will house a drone delivery hub, complete with a team of certified pilots "that operate within Federal Aviation Administration (FAA) guidelines and safely manage flight operations for deliveries".
He adds: "Once a customer places an order, the item is fulfilled from the store, packaged, loaded into the drone and delivered right to their yard using a cable that gently lowers the package."
Last-mile drone tech 'not ready for widespread use'
But Walmart has not not specified how, exactly, its vast drone fleet will negotiate airspace concerns, nor how the machines will be powered.
Brandon Rael, Business Transformation Leader at Capgemini Invent says that although automation is the future of last-mile, drone tech is not ready for widespread adoption.
"Robotics, automation, and eventually drones, will be the new norm for supply chain fulfilment capabilities," he says. "Automation and robotics will be an absolute necessity to reduce cost–to-serve, and to cut inefficiencies and optimise processes."
But Rael adds that, for widespread adoption, drone tech needs to improve: "The drone delivery model requires more work. It's built around supply chain fulfilment innovation but it will require a crawl-walk-run strategy to implement safely, with the right regulations and policies.
He goes on to explain that, as drones become more advanced, socially accepted and, most importantly, safe, "we can expect the drone delivery model to scale-up and for companies to invest in this space".
Walmart drone use 'is exciting journey', says Guggina
But for his part, Guggina describes Walmart's drone initiative as "an exciting journey".
"After completing hundreds of deliveries within a matter of months across our existing DroneUp hubs, we've seen first hand how drones can offer customers a practical solution for getting certain items, fast. More importantly, we've seen a positive response from customers that have used the service. We thought customers would use the service for emergency items but are finding they in fact use it for its sheer convenience, like a quick fix for a weeknight meal."
As Rael pointed out, technology is more advanced in the areas of robotics and automation than it is for drones, so its adoption in warehouse environments is long standing, and it's at a stage where solutions can be adopted at scale.
Warehouse automation goes back 120 years
Warehouse automation goes back as far as 120 years, to the first conveyors, while automated storage and retrieval systems were first deployed in the 1950s.
But with robotics beginning to feature more heavily than ever, many of today's warehouses are reminiscent of something from a sci-fi film. What's more, the pace of adoption is helping businesses control supply chain carbon emissions more effectively.
Gavin Harrison, UK Sales Director with warehouse automation specialist, Element Logic, says that it is the boom in ecommerce – combined with ever-growing demand for faster online order fulfilment – that's prompting companies to invest in warehouse automation technologies.
He points out that these same companies, along with their customers, are also increasingly concerned about their carbon footprint and sustainability practices.
"This combination of factors has led to businesses looking to warehouse operations for opportunities to reduce carbon emissions within the supply chain," Harrison says. "Warehouses are a natural place to start, because around 90% of them across the world are still reliant on manual processes, which is an inefficient use of both space and energy."
"The more a business relies on humans to run its warehouse facilities, the more energy it needs – particularly in terms of lighting and heating."
Warehouse robotics can do without heat and light
More people, Harrison adds, also makes for less efficient workspaces "because humans can't work effectively with extremely dense storage systems in the same way warehouse robots can".
He points out that buying more warehouses, or commissioning expensive new facilities to be built, is neither sustainable nor necessary when flexible warehouse-automation systems can help businesses maximise existing space.
"Many warehouse automation systems help businesses save significantly on energy bills, while also avoiding unnecessary carbon emissions," Harrison says. "For example, auto-store robots use rechargeable batteries and self-generate much of the energy they require." The total energy usage of ten auto-store robots uses the same energy as the average vacuum cleaner.
Harrison also states that the use of flexible automated warehouse storage-and-retrieval systems allows businesses to set up warehouse operations in non-traditional environments – such as at the back of an existing high-street store – without compromising on storage density. Such micro fulfilment centres, also known as 'dark warehouses', can quite literally be run with no lighting.
"Some warehouse robots can operate in the dark without requiring heating, both of which obviously help reduce energy usage."
He concludes: "The other key benefit of opening micro fulfilment centres is that they can be situated in urban centres, much closer to the end customer. This makes last-mile delivery less dependent on road haulage, as customers can pick up orders directly from the micro-fulfilment centre."