Trust will be key to SCM of future, says UST's Colehower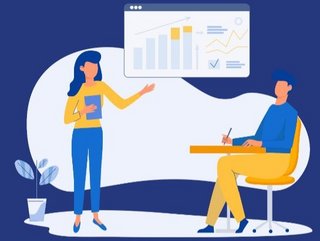 Digital transformation and increasingly complex value chains will see the supply chain management solutions of the future being built on data sharing and trust, say Jonathan Colehower of UST and Blue Yonder's Wayne Snyder.
Supply chain management of future will require trust, says Jonathan Colehower of UST, with Blue Yonder's Wayne Snyder agreeing data sharing will be key
Digitalisation of the supply chain was already well underway before COVID-19 struck, but the pandemic – and its attendant disruptions – has rapidly accelerated the process.
It did so because crisis-hit organisations realised that building resilience and agility into their supply chain was a matter of urgency; indeed, war in Ukraine has only served to stoke the coals of this reality.
Supply Chain Management (SCM) solutions are all about data-driven visibility, which allows businesses to predict disruption, and to plan around it.
Yet there's a thorny issue at the heart of the digital transformation of supply: trust.
To be optimally effective, SCM software requires that data is shared between vendors in a value chain – sensitive data, concerning inventory levels, demand forecasts, customer orders and delivery information – and data scandals in recent years have made firms wary.
Trust 'will be issue' on data sharing – UST's Colehower
Jonathan Colehower, Global Supply Chain Strategy Practice Lead at digital transformation specialist UST, says modern supply chains are more network-based than in pre-pandemic times, and that it's this change that goes to the heart of the trust issue.
He says: "In my opinion, traditional supply chains will become more like private trading networks. In traditional supply chains, suppliers typically have visibility one layer up and one layer down."
At UST, Colehower says they are fashioning "many-to-many trading networks that are permission-based".
"This means you can turn visibility on and off, depending on who the actors are, because you don't want every supply chain actor to see what everybody else is doing.
"One of the biggest challenges for such networks will be trust. Will trading partners trust one another enough to share information?
Colehower says it will take a "pioneer" to help establish such trust-based networks: "It's going to take somebody who's comfortable and confident in that supply chain, who are willing to share, and who can actually demonstrate what the results are."
Data sharing 'will feature in SCM solutions of future'
Wayne Snyder – VP of retail industry strategy EMEA at Blue Yonder, one of the world's leading supply chain management companies – agrees that data sharing will become a more common feature of SCM solutions.
"We harvest data from many internal and external sources but currently do not share data across our customers. However, we foresee that in the future more retailers will look to share data to help deliver better insights."
Synder believes that data sharing will deliver value, while still respecting data privacy, and says that as artificial intelligence and real-time technologies are adopted "there will be opportunities to glean intelligent analysis and insights to improve business operations and efficiency".
On SCM solutions, trust is an issue for the future, according to Snyder, whereas an issue at present is that businesses cannot afford to drag their feet on digitalisation.
"It's imperative that businesses do not choose to stick with legacy SCM software, rather than upgrade," he says, adding: "Companies must adopt the latest technology to support operations, resolve disruption and minimise risk, because supply chain challenges look set to continue."
He adds that recent Blue Yonder research found that just 3% of organisations have escaped supply chain disruption in the past 12 months.
Crucial to leverage AI and ML, says Blue Yonder
Synder feels that, to stay ahead of today's supply chain complexities and effectively manage their priorities, organisations must be able to plan intelligently, while having the visibility and flexibility to respond at pace.
"This can only be achieved by having a real-time, end-to-end view of the supply chain,"
he says. "This will leverage technologies such as AI to recommend and optimise actions, and it needs to be built into both short and long-term strategies."
Snyder says the use of AI and machine learning (ML) to predict demand, optimise inventory and resolve issues at pace have proven critical over the past two years.
"Improved decision-making – alongside better predictability, real-time insights, and tracking through IoT – are transforming the supply chain minute by minute," he says.
He points out that the Suez Canal blockage in March 2021 showed precisely how companies can overcome disruption by utilising such tools.
"Those that had adopted control-tower technologies were able to quickly understand which ships, containers and products were impacted, and then evaluate required mitigations. This was not possible for those that managed their supply chains through legacy systems and disparate spreadsheets."
The positive news, believes Snyder, is that organisations clearly understand the impact of disruption and, as such, are proactively managing concerns by investing time and resource in the supply chain.
"Research shows that 83% of organisations have increased investment in the supply chain over the past 12 months. Technology is the common factor when it comes to such investment, with companies realising throughout the pandemic that the supply chain must be at the heart of their operations; it's become crystal clear that the required technological investment must follow suit."
Firms 'dragging feet' on SCM tech - Snyder
Snyder feels that, although investment in tech is riding high, too many SCM solution upgrades fail, because the adoption of AI and ML technologies remains too low.
"For many, this is due to unfounded concerns around control," explains Snyder. "Yet those companies that are not choosing to adopt this technology into their operations are allowing their competitors who are to move ahead, because such technology is providing them with the answers and optimum responses to today's supply chain challenges."
Synder recognises that investment decisions "are never easy", and that a focus for many business leaders today is short-term cost reduction, in the face of inflationary pressures.
"But the supply chain must remain a priority," he warns. "Not only to help deliver some of those cost reductions through better efficiency and availability, but also because it is becoming a strategic differentiator."
Snyder says that intense competition, the need for fast delivery, and the increasingly complex omni-commerce world continue to create obstacles for retailers.
"The only way to overcome this and satisfy customer demand is through investment in your systems, people and processes," he advises.