Top 10 AI and ML supply chain firms & solutions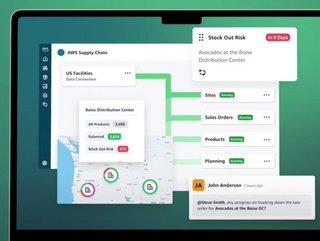 Amazon Web Services is the world's most comprehensive and broadly adopted cloud, with 200 featured services available from data centres globally.
Top AI and machine learning solutions for supply chain include AWS Supply Chain, Google Cloud Vertex, Microsoft Supply Chain Platform & IBM Watson
AI and machine learning (ML) are revolutionising supply chain management in so many ways and areas. In demand forecasting, for example, AI and ML can analyse historical data and market trends to generate accurate demand forecasts.
Inventory management is also benefitting hugely, with companies now able to leverage real-time data to optimise inventory levels based on demand patterns, lead times, and other variables.
Other facets of supply chain being transformed by AI and ML include supply chain planning, supplier selection, risk management, warehouse automation, last-mile optimisation and predictive maintenance.
The following are 10 companies whose AI platforms and solutions are changing the way that supply chains are managed.
Amazon Web Services (AWS) is the world's most comprehensive and broadly adopted cloud, with 200 featured services available from data centres globally. Launched in 2017, SageMaker machine-learning (ML) platform enables developers to create, train, and deploy machine-learning models in the cloud.
Built on this is AWS Supply Chain is a cloud-based application that unifies data, provides ML-powered actionable insights, built-in contextual collaboration, and demand planning. It can connect to existing enterprise resource planning and supply chain management systems without re-platforming, upfront licensing fees, or long-term commitments.

Google's Vertex AI platform allows users to build, deploy, and scale ML models faster, with fully managed ML tools for any use case.
Vertex AI brings together all of Google Cloud's services for building ML under one, unified user interface and API. In Vertex AI, users can easily train and compare models using AutoML or custom code training, with all models stored in one central model repository.
Businesses can use Vertex to build a digital twin of their supply chain, with end-to-end visibility, alert-driven event management, analytics, and collaboration across teams.
In November 2022, Microsoft announced its Supply Chain Platform, built on Azure, which helps organisations maximise their supply chain data estate investment with an open approach, bringing the best of Microsoft AI, collaboration, low-code, security and SaaS applications in a composable platform.
Microsoft Azure ML empowers data scientists and developers to build, deploy, and manage high-quality models faster and with confidence. It accelerates time to value with industry-leading machine learning operations, open-source interoperability, and integrated tools. The platform is designed for responsible AI applications in machine learning.

Supply chain AI & ML: IBM Watson
Watson Machine Learning is a service on IBM Cloud with features for training and deploying machine learning models and neural networks. Built on a scalable, open-source platform based on Kubernetes and Docker components, Watson Machine Learning enables users to build, train, deploy, and manage machine learning and deep learning models.
Watson first gained fame in 2011, for winning the US game show Jeopardy! when pitted against two human champions. In terms of supply chain, Watson aids end-to-end visibility with intelligent dashboards and KPIs.
Supply chain AI & ML: SAP
SAP Integrated Business Planning (IBP) is a cloud-based planning solution for analysing, managing and modifying data to help businesses meet logistical challenges. Embedded ML capabilities in SAP IBP drive planning accuracy and automation, with the solution leveraging ML capabilities across planning areas such as forecasting and operations.
SAP also offers intelligent asset-management solutions, built on AI and machine ML algorithms to analyse sensor data, identify patterns, and forecast potential failures.
SAP recently announced it was embedding IBM Watson technology into SAP solutions to provide AI-driven insights and automation across the SAP application portfolio.
Oracle Cloud Infrastructure (OCI) AI Services is a collection of services with prebuilt machine learning models that make it easier for developers to apply AI to applications and business operations. The models can be custom-trained for more accurate business results.

In April 2023, Oracle introduced new capabilities across the Oracle Fusion Cloud Applications Suite to help customers accelerate supply chain planning, increase operational efficiency, and improve financial accuracy.
Supply chain AI & ML: Siemens
Siemens is a global powerhouse in engineering and technology, and offers a range of predictive maintenance solutions for industries such as manufacturing, energy, and healthcare. In 2022, Siemens acquired Senseye, a leading provider of predictive maintenance solutions for manufacturing and industrial companies.
Predictive Maintenance is important to supply chain as it enables real-time asset intelligence across plants worldwide, helping preempt and prevent production problems.
Combining leading AI with human insights, the platform helps organisations to increase productivity, work more sustainably, and accelerate digital transformation.
Supply chain AI & ML: Dataiku
Many top supply chain and logistics organisations – as well as companies with a supply chain or procurement department – use Dataiku. It is a data science, machine learning, and AI platform used for more granular and accurate management. It helps deliver a more efficient supply chain that delivers major cost savings and increased profits.
Dataiku supports a wide range of machine learning and analytic tasks, such as prediction, clustering, time series and image classification.
Founded in 1976, SAS develops and markets a suite of analytics software, which helps access, manage, analyse and report on data to aid in decision-making.
SAS Machine Learning on SAS Cloud supports modern statistical and ML techniques in a single, scalable in-memory processing environment to develop, test and deploy models.
In supply chain, it helps avoid under- or over-stocking inventory by using real-time 'what-if' insight into supply and demand dynamics. It can also connect customer and supply chain intelligence using ML, models to connect shopper engagement to product demand.
Supply chain AI & ML: ​​​​​​​Databricks
Databricks Machine Learning empowers ML teams to prepare and process data, streamlines cross-team collaboration. The Databricks Lakehouse Platform enables businesses to build resilient and predictive supply chains, "by eliminating the trade-off between accuracy or depth of analysis and time", says the company.
It enables scalable forecasts, to predict demand and boost supply chain planning and optimisation, and can be a supply chain management aid by improving the accuracy of decisions.