Sustainability and omnichannel top supply chain trends list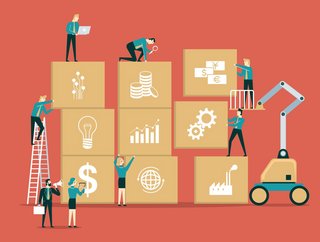 As supply chain evolves in the face of pandemic-driven changes and political instability, sustainability & omnichannel top the list of 10 supply trends
Supply chain trend 10: EDI as a service
Electronic Data Interchange (EDI) is what provides the framework for automated supply chains, on communications, performance and visibility. But EDI itself is evolving, out of the inherent limitations of bespoke EDI solutions, which have resulted in a non-standard approach from company to company, meaning not all trading partners can implement EDI, and also that testing is time consuming.
EDI-as-a-service addresses these shortcomings, helping to deliver digital supply chain transformations that bring increased agility, simplicity, and simplified integrations.
Supply chain trend 9: Micro-fulfilment
Micro-fulfilment is where companies look to marry the advantages of localised delivery, or pick-up with the efficiency of an automated warehouse. Often these small automated systems are built into an existing facility to serve a cluster of local areas. Traditionally micro-fulfilment has been used in the foods sector, but with the rise of omnichannel the practice is becoming more common across retail in general.
Micro-fulfilment video
Supply chain trend 8: Pop-up fulfilment
While micro-fulfilment is beyond the scope of some retailers, pop-up fulfilment is a more accessible approach. Again, largely thanks to omnichannel, retailers are beginning to use temporary pop‑up fulfilment centres to increase throughput during high-volume holiday periods, such as Thanksgiving and Christmas. It's a way to get products closer to customers faster, in specific areas and at a fraction of the cost and time required to set up permanent
Pop-up fulfilment video
Supply chain trend 7: Strategic inventory management
With the shift to omnichannel and digitisation, retailers are beginning to recognise the role inventory can play in generating competitive advantage. Previously, retailers used the past as the best explanation of the future, projecting demand and supply based on aggregated data. But now retailers predict buying patterns based on real-time data, including behavioural factors, to deliver a detailed understanding of what's the best product, inventory level, location and channel, at the right time for the right consumer.
Supply chain trend 6: Reshoring
prone to disruption and riven with risk. Reshoring shortens supply chains, and creates skilled manufacturing jobs. Samsung is an example of a multinational company that is reshoring. In 2021 it announced a new $17 billion microchip manufacturing plant in Texas, as a way to overcome the continuing global shortage of microprocessors.
Reshoring & nearshoring video
Supply chain trend 5: Nearshoring
As with reshoring, the practice of nearshoring is designed to shorten long supply chains to avert disruption. Nearshoring is when businesses seek lower-cost operational locations closer to home, usually in second-tier cities and regions where real estate costs are lower and competition for skills less fierce. Healthcare and pharmaceuticals is one sector that is reshoring aggressively, in a bid to cut costs and maintain greater visibility.
Supply chain trend 4: Logistics outsourcing
Pre-pandemic, business leaders might ask 'Should I outsource?' Now they're asking, 'How much should I outsource?'
Businesses today rely on third- and fourth-party logistics providers for functions including packaging design and management of company-owned assets. Digitalisation and rapidly evolving customer expectations have seen a shift towards logistics outsourcing being seen as a means to gain competitive advantage, in the way logistics is designed, build, run and measured.
Logistics outsourcing video
Supply chain trend 3: The rise of automation
Artificial Intelligence (AI), machine learning (ML) and robotic process automation (RPA) are already helping create the supply chains of the future. Whether it's AI and ML helping to manage supplier contracts in procurement, or RPA doing the heavy lifting in a warehouse, automation technology is removing many of the repetitive tasks of supply chain, freeing up people to concentrate on being more strategic.
Warehouse automation video
Supply chain trend 2: Omnichannel
Traditional customer purchasing patterns were already changing back in 2019, with a strong trend away from brick-and-mortar shopping and towards e-commerce. The pandemic accelerated this to an incredible degree.
We have since seen a move away from a multichannel retail strategy approach to omnichannel - the seamless integration of the buying experience across all channels. With such rapid change, retailers have had to re-examine their strategy around fulfilment.
Omnichannel video
Supply chain trend 1: Sustainability
To achieve net-zero emissions by 2050, businesses are now designing sustainability practises into the fabric of their operations - from product design and manufacturing, to logistics, consumption and recycling. The drive to identify and remedy Scope 3 emissions from the supply chain is one of the biggest challenges facing businesses. An estimated 80% of all emissions are Scope 3. The digitisation of supply is helping on this front, but ultimately global co-operation programmes and standards will be needed to meet de-carbonisation targets.
Scope 3 video