PD Ports' transformation with Honeywell Mobile Computers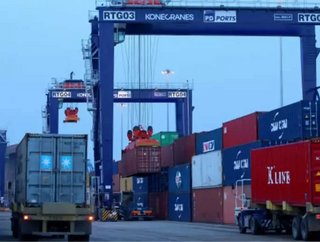 Click here to read the feature on ruggedised, hand-held mobile computers in the supply chain,which experts from Honeywell contributed to,in the Octobe...
Click here to read the feature on ruggedised, hand-held mobile computers in the supply chain, which experts from Honeywell contributed to, in the October edition of Supply Chain Digital
PD Ports, a British ports operator, has seen productivity and customer service levels increased by fast and easy operation and errors reduced by deploying hand held, mobile computers, ruggedised for use in the often rough-and-ready environment of the global shipping world, across its ports.
The technology, at the forefront of the latest developments in the supply chain world, is, in this instance, from Honeywell Technologies.
PD Ports has deployed Honeywell's Thor VM1 vehicle mounted mobile computers (pictured, above) and MX9 handheld devices (pictured, below) to improve workflows and productivity.
The following is a case study of the project.
Key to the success of the project was the integration of these devices with the new Navis Terminal Operating System introduced at Teesport to give improved visibility of goods and operations. The terminals have proven rugged, reliable and easy to use. The Thor was also able to overcome problems PD Ports had previously been experiencing with loss of connection to the Terminal Operating System.
In the past, PD Ports would lose connection to the Terminal Operating System when they moved a tug or computer outside of their own Wi-Fi coverage. The Honeywell Thor allows them to switch seamlessly between Wi-Fi and 3G hence keeping the connection constant with the Navis software. This provides visibility at all times of each tug or trailer within its business processes, whether they are actually on a PD Ports site covered by Wi-Fi or on a third-party site covered by 3G. Honeywell partner Renovotec installed Netmotion software on the Thor's and MX9's to provide this robust and complete solution.
Company Profile
Owned by Canadian global asset manager Brookfield, PD Ports is a ports and logistics business operating throughout the UK with a strong presence across the North East and the Humber estuary region. It owns and operates the ports of Teesport and Hartlepool and employs over 1,200 people in port services and logistics.
PD Ports' portcentric business model and logistics concept has been a major driver behind its recent growth. Its ability to offer customers a full logistics solution focused around port-based importation and exportation facilities has helped it to attract business from major retailers including Asda and Tesco.
The Business Challenge
PD Ports has undertaken major redevelopment of its port facilities to provide additional handling capacity and to accommodate and sustain the growth achieved by its portcentric business model.
This involved investment in new storage and handling facilities as well as new IT infrastructure and the Navis Terminal Operating System. Its existing mobile computers could not support the upgrade, so the company approached a number of vendors looking for suitable touchscreen replacements.
Previously, PD Ports had experienced a particular problem with mobile devices losing connection to the terminal operating system while moving from Wi-Fi to a 3G connection as vehicles moved around the port. It was therefore vital that any new solution was able to address this problem.
The Solution
After evaluating a number of alternatives, PD Ports purchased Honeywell's Thor VM1 vehicle mounted computers and MX9 handheld mobile devices, which are now used by operatives to guide them through work routines while communicating continuously with the Terminal Operating System.
The port's gantry crane operators unload containers from docked ships and place them on tug vehicles, which in turn then take them to trailers, storage facilities or nearby distribution centres.
Honeywell partner Renovotec installed Netmotion software on the mobile devices for a seamless handover between Wi-Fi and 3G radio connections.
Benefits
Since installation the Honeywell mobile computers have proven to be a rugged and reliable upgrade. Easy-to-use touchscreen operation allows operatives to follow workflows quickly and accurately with a minimal number of screen touches or keypad strokes.
"The Honeywell equipment has made us more efficient as it is touchscreen," said Gemma Holmes of PD Ports unitised management division.
"Our operators can get through the work queues quicker, meaning the flow of units out of the terminal remains high, keeping our productivity levels high and ensuring good customer service."
Andrew Oxby, PD Ports' General Manager, said: "Honeywell devices are very easy to work with. It prevents operational delays that occur due to incorrect data entry or confusion..
"One of the other benefits is that it speeds up the training process, because it is such a simple user-friendly piece of equipment."
Operator Scott Clements said: "Many of the functions that we require in day-to-day working only require one or two presses of a key or the screen."
Summary
PD Ports' reasons for choosing Honeywell's Thor VM1 and MX9 included:
• Productivity and customer service levels increased by fast and easy operation
• Substantially minimised errors
• Operations completed with minimal number of screen touches or keypad strokes
• Reduced training time for new users
• Successful handover between Wi-Fi and 3G connections
• Leveraging of existing RF network for voice application