LinkedIn reacts to AWS Supply Chain: too narrow in scope?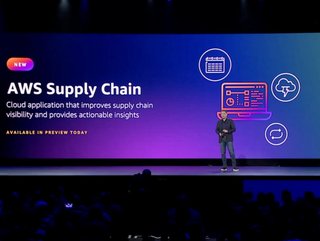 Many observers on LinkedIn want to see AWS Supply Chain evolve into a tool that allows for scenario planning and proactive decision making.
As AWS Supply Chain's is unveiled, LinkedIn reacts to the latest tool to offer value chain visibility, with some calling for a broader feature set
The release of Amazon Web Services Supply Chain solution has set LinkedIn ablaze with reaction, as supply chain and operational executives digest the implications.
AWS Supply Chain is a new application that helps businesses increase supply chain visibility, "to make faster, more informed decisions that mitigate risks, lower costs, and improve customer experiences", AWS said, as it launched the product.
AWS Supply Chain 'unifies data to provide insights'
AWS added: "AWS Supply Chain unifies supply chain data, provides machine learning-powered insights that are actionable, and offers built-in contextual collaboration."
This, claims the company, will help businesses increase customer service levels by "reducing stock-outs and help lower costs by reducing over-stock".
The solution works by providing a real-time visual map feature, showing the level and health of inventory across limitless locations. It also provides targeted watchlists, to flag potential risks.
When a risk is identified, AWS Supply Chain provides inventory rebalancing recommendations and built-in, contextual collaboration tools that, says the company, make it "easier to coordinate across teams to implement solutions".
The solution is also designed to connect to existing enterprise resource planning and supply chain management systems, "without replatforming, upfront licensing fees, or long-term contracts", AWS says.
Upon launching the product, Diego Pantoja-Navajas, Vice President of AWS Supply Chain, said: "Customers tell us the heavy lifting needed to connect data between different supply chain solutions prevents them responding quickly to supply chain disruptions.
"AWS Supply Chain aggregates this data and provides visual, interactive dashboards that provide the insights and recommendations customers need to take actions toward more resilient supply chains."
LinkedIn reacts to AWS Supply Chain
But how have supply chain managers and operational executives received AWS's supply chain solution?
The reaction has been generally positive, although most observers feel it is too early to pass any kind of judgement just yet. There are also concerns AWS Supply Chain is too narrow in scope.
Chao-Ming Ying is CTO at New Horizon Soft, a company that provides supply chain planning software for manufacturers.
Ying felt it was "inevitable Amazon would launch a supply chain software service".
He adds: "Over the past two decades no company has had more impact on how businesses view the strategic importance of supply chain management.
"Amazon's fulfilment service has been providing outsourced shipping and handling to merchants since 2006 and over 2 million customers.
"More recently, AWS launched a number of supply chain technology services applicable such as Amazon Forecast, Improving Forecast Accuracy with Machine Learning, Amazon Managed Blockchain, and Amazon IoT Core.
"These are building blocks that developers can use to create custom applications, whether for supply chain or other purposes. So it's not surprising that now Amazon is going a step further and launching a true supply chain software application."
Ying feels Amazon has "stellar credentials" when it comes to supply chain expertise and cloud technologies.
But he has reservations, too, pointing out that, despite "the grand vision" of the AWS Supply Chain marketing materials, the solution is "limited to a narrow range of functionality and positioned as a demand planning and visibility complement to existing supply chain systems".
He says although its components include demand planning, insights and a data-lake foundation, the solution lacks functionality for supply, manufacturing and distribution planning. "Nor does it include any supply chain execution capabilities," he adds.
LinkedIn reaction elsewhere was similar.
Yermek Durmaganbetov is Operational Planning and Inventory Management Director at beverages company RG Brands.
He feels AWS Supply Chain "is only a start", and that it will evolve into solution "that will deliver scenario planning and proactive decision making"
Ian Smith – Managing Director at professional services firm Alvarez & Marsal – believes AWS "will pursue the supply chain business application market over time".
He adds: "However, it will not be like an Oracle Supply Chain product. The AWS supply chain suite will be more like a collection of PAAS (modern component based architecture) services that are integrated with a standard AWS UI or can be called from within other legacy business applications.
"Legacy supply chain applications in production today have been customised, and AWS will be additional solutions to extend your legacy environment.
Mohinder Sikka is Found and CEO of Sensitel, a last-mile supply chain visibility platform.
Sikka says: "AWS does have the captive market of third-party sellers that can use AWS tools. Most of these sellers use third party fulfilment, so aggregating inventory data is key for them and AWS supply chain can help.
"I see less of a fit with enterprises. Supply chain software is not procured by IT, so AWS may have a go-to-market challenge.
About Amazon Web Services
Amazon Web Services is one of the most comprehensive and broadly adopted cloud offerings. It has 200 featured services, covering computing, storage, databases, networking, analytics, machine learning and artificial intelligence, Internet of Things, mobile, security, and augmented reality.