IBM CSCO & COO survey shows tech & sustainability key areas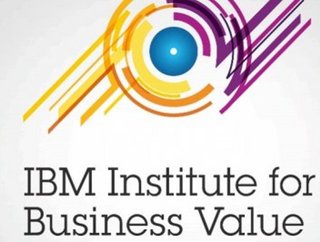 The IBV survey shows that CSCOs are embracing AI and automation technologies to provide interconnectivity with partners and suppliers and to enable sustainable operations and predictability
IMB Institute for Business Value (IBV) study surveyed 1,500 CSCOs and COOs, and they are ramping-up investment in automation, AI and sustainability
An IBM survey of chief supply chain officers (CSCOs) shows they are ramping-up investment in automation, AI and intelligent workflows, ecosystems and sustainability, as they reimagine their supply chains.
The IMB Institute for Business Value (IBV) study, Own Your Transformation, surveyed 1,500 CSCOs and chief operating officers (COOs), with the aim of discovering how they are seeking to future-proof supply chains against problems caused by the pandemic, inflation, climate change and geopolitical events.
It shows that CSCOs are embracing AI and automation technologies to provide interconnectivity with partners and suppliers and to enable sustainable operations and predictability.
Headline findings from IBV report:
Almost half (47%) of CSCOs say they've introduced new automation
CSCOs rank sustainability as the third biggest challenge in the next few years, trailing only supply chain disruptions and technology infrastructure.
More than half (52%) put sustainability at the top of their priority list
50% report that their sustainability investments will accelerate business growth.
CSCOs say direct pressure for sustainability transparency comes mostly from investors (56%), board members (50%) and customers (50%).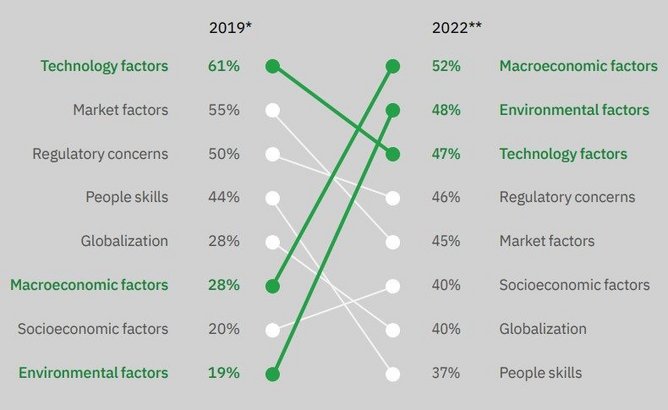 A fifth of respondents is already outperforming peers on key digital transformation metrics, with some reporting increases in annual revenue growth of up to 11%. Such companies are typically:
Integrating automated workflows across business functions.
Modernising their technology infrastructure. (A total of 56% leveraging hybrid cloud, while 60% are investing in digital infrastructure to scale and deliver value.
Extending sustainability initiatives, creating new products and services. More than half (58%) see opportunities to improve customer engagement through sustainability imperatives.
Focusing deeper on cybersecurity (20% more than other CSCOs).
"Automation and AI enables CSCOs and their organisations to collect data, identify risk, validate documentation, and provide audit trails, even in high inflationary periods," said Jonathan Wright, IBM Consulting Global Managing Partner, Sustainability Services and Global Business Transformation. "Such initiatives help build intelligent, resilient, and sustainable supply chains."
The report was produced In cooperation with Oxford Economics, and respondents came from 35 countries and 24 industries. It is the 26th edition of the study.
About IBM Institute for Business Value (IBV)
IBV serves as the thought leadership think tank for IBM. It produces research-backed, technology-informed strategic insights that help leaders make smarter business decisions. It surveys, interviews and engages with thousands of executives, consumers, and experts each year, with the aim of generating actionable insights.