Exclusive Video: Brian White, Swarovski's Supply Chain
Speaking at Procurement & Supply Chain LIVE, Brian White, SVP Supply Chain Management and MD at Swarovski discusses the company's complex supply chain
As the world's fastest-growing procurement and supply chain event, Procurement & Supply Chain LIVE 2023 was a disruptive learning and networking event that showcased some of the industry's top speakers across innovation, thought leadership and strategy.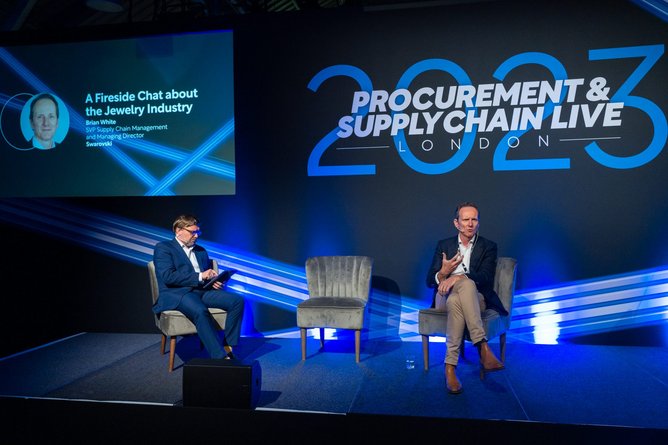 Brian White, SVP Supply Chain Management and MD at Swarovski
A Fireside Chat about the Jewelry Industry
Closing Day 1 of Procurement & Supply Chain LIVE for stage 1, Brian White, SVP Supply Chain Management and MD at Swarovski shared with the audience the company's complex supply chain.
Generating US$2.1bn in revenue and distributing to more than 100 countries via various channels, Swarovski has an intricate supply chain process, which involves the manufacturing of finished goods and crystals, as well as sourcing gems.
Strategy and transformation at Swarovski
Furthering his discussion, White highlights three strategies and transformation within the organisation including:
Restructuring the global logistics network, focusing on customer proximity and tax optimisation
Aligning sales and operations planning with new product launches, enhancing commercial synergy
Fostering a positive team culture that emphasises success and effective communications
The role of technology and data analytics
Elsewhere, White stresses the role of technology and data analytics in optimising the supply chain emphasising the company's access to an abundance of data. He elaborates further on the significance of data utilisation and purpose-driven analysis, as well as the importance of key partners and suppliers.
Ethical sourcing and COVID-19
White concludes his discussion by addressing ethical sourcing and sustainability, particularly when it comes to the diamond supply chain, focusing on traceability and certification for created diamonds.
He also discussed the company's evolution of its supply chain during the pandemic necessitating rapid execution and adaptive decision-making.
To watch any of our other speakers from Procurement & Supply Chain LIVE 2023, click here.
Don't forget to register for our future events including Manufacturing LIVE 2023, Procurement & Supply Chain LIVE Dubai 2024 & Procurement & Supply Chain LIVE London 2024.
Celebrating exemplary achievements in the fields of procurement and supply chain management, the Supply Chain AWARDS - debuting in 2024 - acknowledges companies, professionals, and projects that demonstrate exceptional performance, innovation, and strategic thinking. Click here, to find out how you can enter.
******
For more insights into the world of supply chain read the latest edition of Supply Chain Digital and be sure to follow us on LinkedIn & Twitter.
Other magazines that may be of interest: Procurement Magazine, Manufacturing Digital
******
BizClik is a global provider of B2B digital media platforms, for leaders across: Sustainability; Procurement & Supply Chain; Technology & AI; Cyber; FinTech & InsurTech; Manufacturing; Mining; Energy; EV, Construction; Healthcare; and Food. Based in London, Dubai, and New York, Bizclik offers services including content creation, advertising & sponsorship solutions, webinars & events.