Is COVID-19 An Opportunity To Transform Supply Chain Networks?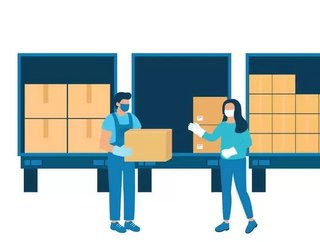 COVID-19 has disrupted every supply chain around the world, from food through to healthcare. Global shortages of everything, from PPE to groceries, have...
COVID-19 has disrupted every supply chain around the world, from food through to healthcare. Global shortages of everything, from PPE to groceries, have highlighted supply chain failures.
A main focus of the coronavirus outbreak has been the need for PPE and other protective equipment, not only for frontline workers in hospitals, shops, prisons, and more. Dependence on too few suppliers has led to many firms being unable to fulfill orders and requests for more protective equipment, with factories around the world closing their doors following outbreaks among the employees.
Shortages have also been reported in more common medications, such as painkillers. The majority of the ingredients these drugs contain are manufactured in China, the country where the outbreak originated. Preparation and packaging facilities have also been closed in India, meaning there is no supply to even meet the demand, crippling supply networks from the very beginning of the process.
Shortages of products in every sector have seen an increase in costs, in many cases. However, as supply chains react to the disruptions the cross-border networks bring them, and move towards local and regional suppliers, costs could continue to increase. Shorter lead times and lower risks will be a benefit, but could easily bring additional costs.
Shifting towards supply chains that lean towards being more reliant on local suppliers can also bring environmental benefits and making selling and delivering products much easier, eliminating the need for intermediaries. 
Innovative technologies, such as AI, robotic automation, blockchain and 5G are also factors that can bring the supply chain to a new level, both during and after the pandemic. Transmission risk could be mitigated significantly by automated operations, whilst blockchain technology is used throughout the industry for its ability to improve traceability and visibility in the supply chain. 
How are supply chains responding?
It is thought that at least 880,000 respirators are needed by healthcare organisations. A group of UK manufacturers, including Dyson, JCB and Airbus, have all partnered together to provide the National Health Service (NHS) with up to 30,000 ventilators. GM, Ford, and Tesla are all helping the effort in the US, whilst France and Germany are being provided for by Liquide and Draegerwerk AG.
Many countries are also extending their efforts across borders. International allies and struggling companies are receiving exported goods daily. The military of Germany has donated 60 ventilators to the UK, and an additional 50 to Spain, free of charge. China has also sent 300 ventilators to the UK, and 1000 to New York since the beginning of March, with the UK and the US experiencing the worst hits from the virus.
SEE ALSO:
For more information on procurement, supply chain and logistics topics - please take a look at the latest edition of Supply Chain Digital magazine.