Act now on DPP supply chain laws, Avery Dennison warns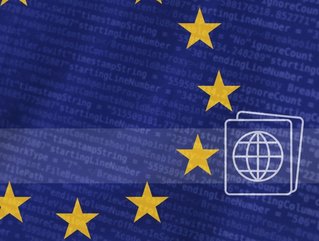 Lindsey Hermes – Digital Solutions Global Commercial Director with multinational manufacturer Avery Dennison – says the EC's Digital Products Passports scheme requires that firms make "wholesale organisational change that might take many years".
Avery Dennison Commercial Director Lindsey Hermes warns businesses with European interests to act now on preparing for EC Digital Products Passports laws
A leading manufacturing figure has warned organisations with supply chains involving Europe to prepare now for the introduction of digital products passports, or they risk losing customers and facing charges of greenwashing.
Speaking to Supply Chain Digital about the European Commission's Digital Passport Scheme (DPP), Lindsey Hermes – Digital Solutions Global Commercial Director with multinational manufacturer Avery Dennison – says the scheme requires that firms make "wholesale organisational change that might take many years".
The European Commission's Digital Product Passport Scheme (DPP) will gather data on a product and its supply chain and share this end-to-end across value chains. This will give all stakeholders – including consumers – a better understanding of the provenance of materials and products they use, and their environmental impact.
DPP will be driven by the European Commission's Circular Economy Action Plan (CEAP), which will lay the groundwork for the phased introduction of a DPP in key markets by 2026. These markets include textiles, construction, industrial and electric vehicle batteries, consumer electronics, packaging and food.
DPP is designed to support:
Sustainable product production
Service and repair-based business models
Informed consumer purchasing decisions
Compliance obligations
"Organisation that do business within the EU will have to completely overhaul supplier relationships to provide the necessary data," warns Hermes. "DPPs are becoming a reality. The level of product transparency required goes far beyond what is required today."
"The required legislation and digital identification technology are still being ironed out, but there is no time to waste, because wholesale organisational change is needed, and this might take many months, or even years."
Hermes has the following advice for businesses affected by the game-changing DPP initiative.
Road to DPP: Build trust through transparency with suppliers
"The whole purpose of the scheme is to consider the entire life cycle of products, from production to end-of-life disposal," she says. "This must cover all processes relating to materials sourcing, production, and supply chain.
"This requires a deep level of transparency from your suppliers – and their suppliers – as to exactly where constituent materials are sourced."
This, she says, means breaking down silos and
communicating with suppliers that might have been reluctant to share this information in the past. "With DPPs there will be no choice, and this requires a high level of trust in the supply chain."
Road to DPP: Engaging consumers through transparency
Hermes points out that although legislation to enforce DPP change "might feel like a burden and an expense" today's consumers expect greater transparency.
She adds: "Transparency also means any greenwashing accusations levied at brands can be negated, since everything is out in the open for the world to see.
"Transparency also provides brands with the opportunity to differentiate their offering and validate their progress against sustainability goals by engaging with their customers via smartphones at point of sale and even post-purchase."
Road to DPP: Planning starts today
"The key to the process is to plan, and to start today," she stresses. "This should begin with appointing someone to lead the initiative. They need to be empowered to align all the internal resources that are needed and be responsible for the outcome.
"Stakeholder groups need to consist not just of those responsible for procurement but all elements of operations, supply chain and marketing."
She adds: "Relationships with suppliers will have to be assessed and taken to a different level. It will be a requirement for them to reveal the exact source of raw materials even if they in turn are sourcing them from elsewhere."
Hermes warns that business continuity "is dependent on this exchange of information", and cites the seizure of imports of clothing by US Customs under the Uyghur Forced Labor Protection Act, on suspicion of them being manufactured using slave labour. "DPPs and transparency with suppliers can ensure these situations don't arise in the future," she says.
Road to DPP: Partnerships are key
External partnerships are important too, says Hermes.
"Re-use of materials is a key driver for DPPs so it's important to get close to organisations that understand this process," she advises. "This might include retailers that offer take-back schemes for consumers to return products for a second life.
"It can also include recycling bodies and understanding their requirements for transparency regarding the materials inside products."
Road to DPP: Ensure data visibility
Hermes says the digital ID technology will likely involve QR codes, but warns that many companies will find key information they will need for the scheme is siloed and fragmented.
"Getting the structure of this data consistent and adhering to global standards is crucial and bringing in technology providers to enable that is a vital part of the partnership structure," she says.
She adds: "In the months ahead expect to see further guidance from EU Institutions as well as CIRPASS, the EU project which is creating the first technical prototype for the DPP, but for now, addressing the challenges outlined above is key and there is no time to waste."