Timeline: RFID's rich history runs from WW11 to omnichannel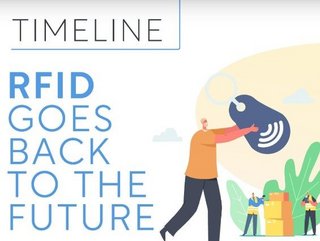 For a technology that has been with us for more than 80 years, RFID (radio frequency identification) is as vital as ever, being at the heart of omnichannel
RFID timeline: 1940 - Radar
RFID has its roots in the radar technology that emerged during World War Two, which was used by the British, American and German military to identify whether aircraft were friends or foe.
RFID timeline: 1948 - RFID invented
Sweden-born scientist and inventor Harry Stockman is credited with the invention of RFID. In 1940, Stockman moved to the United States and, in 1947, began experimenting with communication via passive reflected carrier waves – one application being a 'Number Identification System' that was a rudimentary form of RFID.
RFID timeline: 1959 - Long-range RFID launched
Long-range RFID tags – which are 'active' instead of 'passive' – have a range of up to 100 metres and are designed with low-power consumption to give longer battery life. Long-range RFID tags enable the user to track assets across large areas and spaces.

RFID timeline: 1973 - RFID first patented
The first patent for commercial RFID tags was granted in 1973 to Mario W. Cardullo, whose RFID tag had a rewritable memory. The same year, California entrepreneur Charles Walton received a patent for a passive transponder used to unlock a door without a key.
RFID timeline: 1987 - RFID goes public
Copy: France introduces an RFID-based 'electronic toll collection' system to its road networks, which is still in use today. This is a faster alternative to traditional toll booths, where vehicles stop and the driver manually pays the toll with cash or a card. Thousands of such systems are now in use globally.
RFID timeline: Present - Ecommerce and omnichannel
RFID tech is pivotal to the Internet of Things and, with the pandemic seeing a seismic shift to ecommerce, retailers are using RFID to track inventory and deliver the flexibility, convenience and choice consumers increasingly expect in an omnichannel world.