Key findings from GEP Supply Chain Volatility Index for July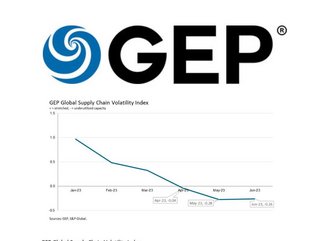 GEP Global Supply Chain Index July 2023
Global supply chain excess capacity rose sharply in July according to GEP's Global Supply Chain Volatility Index
The index is a leading indicator for procurement and supply chain professionals regarding conditions, shortages, transportation costs, inventories and backlogs based on a monthly survey of 27,000 businesses.
The index fell to -0.50 in July, from -0.26 in June, which indicates an increased rise in excess capacity across global supply chains in an atmosphere of weak global demand conditions and continued destocking of warehouses.
Three key findings from GEP Global Supply Chain Volatility Index
Excess Capacity
Excess capacity in the world's supply chains rose sharply in July and at the fastest pace since May 2020, pointing to deteriorating economic conditions.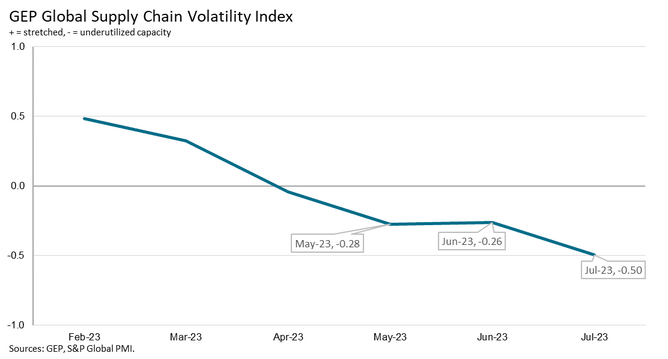 GEP/S&P Global Supply Chain Volatility Index
Global divergence
Demand conditions, which remain depressed globally, declined at even sharper rates in Europe and the UK in July; contrasting with shallower demand downturn in North America, highlighting some divergence in global economies.
European supply chain capacity
European supply chain spare capacity was at its greatest level since the global financial crisis of 2008-2009.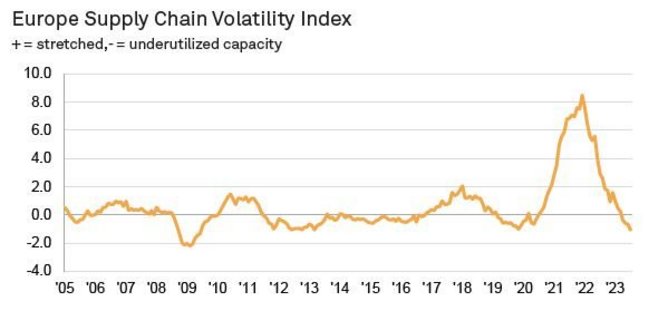 Europe supply chain volatility index
Commenting on the July data, Jonathan Kinghan, Vice President, Supply Chain Consulting, GEP, said: "We're now in the 14th consecutive month of subdued demand across Europe, and our July data shows it's getting significantly worse across the continent, in contrast to North America. Our data does not indicate a 'soft landing' in Europe. As a result, companies have greater leverage to negotiate favourable terms from suppliers for 2024 and 2025."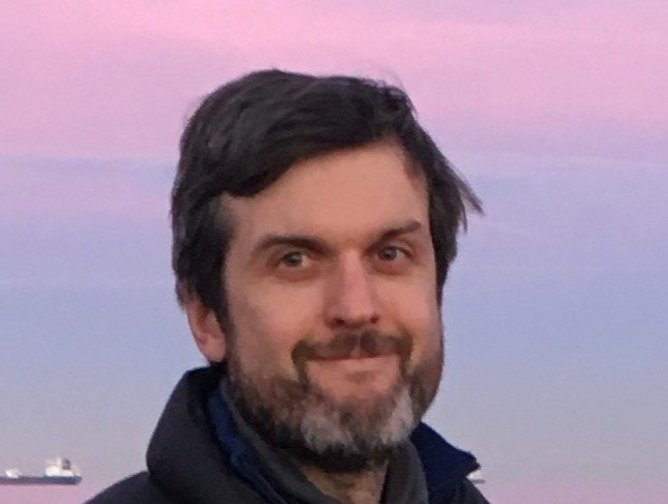 Jonathan Kinghan, vice president, supply chain consulting, GEP
Other key findings in the report include the cost of global transportation falling to their lowest level since January 2016, reports of backlogs because of labour shortages are historically low, and supply shortages have ended with reports of item scarcity now in line with historically normal levels.
Regional index breakdown
North America
The index rose to -0.37 from -0.85, indicating a slower rise in excess capacity.
Europe
Index fell to its lowest level since the 2008-2009 global financial crisis at -1.07, from -0.67 in June, indicating marked worsening of economic conditions in Europe.
UK
The index fell to -1.01, from -0.66 as weakness in major trading partners in Europe continues, driving a sharper rise in supplier spare capacity.
Asia
While the index fell to a three-year low of -0.31, from -0.17 in July, the region still shows more resilience than the rest of the world.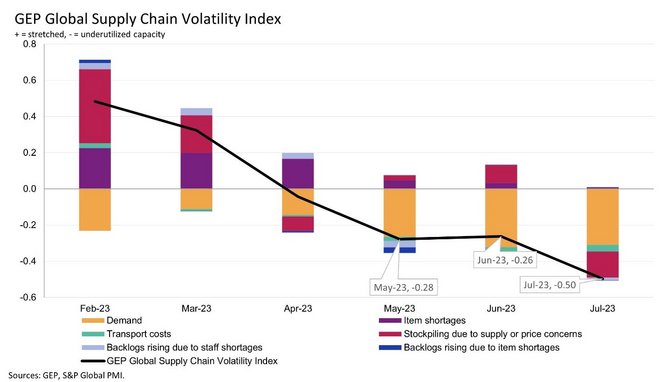 GEP Global Supply Chain Volatility Index July
How does the GEP Global Supply Chain Volatility Index work?
The GEP Global Supply Chain Volatility Index is produced by S&P Global and GEP. It is derived from S&P Global's PMI surveys and sent to 27,000 global companies. The headline figure is a weighted sum of six sub-indices derived from PMI data, PMI Comments Trackers and PMI Commodity Price & Supply Indicators compiled by S&P Global.
What do the values in the GEP Global Supply Chain Volatility Index mean?
A value above 0 indicates that supply chain capacity is being stretched and supply chain volatility is increasing. The further above 0, the greater the extent to which capacity is being stretched.
A value below 0 indicates that supply chain capacity is being underutilised, reducing supply chain volatility. The further below 0, the greater the extent to which capacity is being underutilised.
The index is published once a month and you can review previous studies here.
******
For more insights into the world of supply chain read the latest edition of Supply Chain Digital and be sure to follow us on LinkedIn & Twitter.
Other magazines that may be of interest: Procurement, Manufacturing & Sustainability. Also check out our upcoming event in September: Procurement & Supply Chain LIVE London.
******
BizClik is a global provider of B2B digital media platforms, for leaders across: Sustainability; Procurement & Supply Chain; Technology & AI; Cyber; FinTech & InsurTech; Manufacturing; Mining; Energy; EV, Construction; Healthcare; and Food. Based in London, Dubai, and New York, BizClik offers services including content creation, advertising & sponsorship solutions, webinars & events.