Logistics readying itself for EV revolution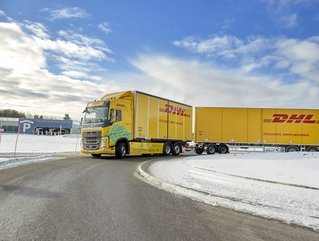 Logistics readying itself for EV revolution
Volvo Trucks leading the way in EV production for logistics sector, as businesses like DHL Supply Chain and DFDS add e-trucks to their fleets
Electric Vehicles (EVs) help businesses reduce their carbon footprint, improve local air quality and provide a better driver experience. They also limit reliance on volatile fuel prices, creating potential cost savings in the long run.
All of these are of course of benefit to the logistics industry, which – if it is to achieve net zero carbon emissions by 2050 – will have to significantly increase its use of EVs. For this to happen, market conditions must be favourable, and the signs on this front are at least encouraging.
In a recent report, called 'What's sparking EV adoption in the truck
Industry?''McKinsey says "the time for EV technology is ripe", and goes on to list three factors that are set to support the e-truck market through to 2030:
The total cost of ownership between e-trucks and diesels is growing smaller
EV technology and infrastructure is becoming more cost competitive and available
The regulatory landscape is driving adoption, with country-level emission regs to the fore.
At the same time, says McKinsey, barriers to e-truck take-up rates still pose a challenge. The paper talks about how new vehicles must be proven to be reliable before mass adoption takes place, and that employees, dealers, and customers require training around EV use in the workplace.
McKinsey's research concerns three classes of battery-electric commercial vehicles: light-duty trucks (for urban use); medium-duty trucks (regional use) and heavy-duty trucks (long-haul).
It says it expects to see strong uptake of BECVs in the light- and medium-duty segments. It adds that, with the expansion of low-emission zones in major cities, BECVs could reach 15 to 34% sales penetration by 2030.
However, it sees lower take-up in the heavy-duty class because of high battery costs, which affects total cost of ownership, but says tighter emissions regulations, increasing customer confidence and a more established charging infrastructure will drive adoption in all EV BECVs classes after 2025.
In 2020, the global market for electric trucks reached US$392m, and if McKinsey is right about adoption increasing, it should be set to hit the $3.8bn mark by 2030.
Widespread EV integration is an inevitable byproduct of the push toward sustainable transportation.
In February 2023, Uber Freight announced a pilot program with WattEV, which will leverage a digital freight network to connect shippers with an all-electric heavy-duty transportation platform.
WattEV will provide electric trucking capacity to Uber Freight shippers on select routes in Southern California, starting with CHEP. The pilot is a key milestone in electric-powered transportation.
In Europe, too, there are signs that logistics is embracing EV solutions. Denmark-based DFDS is Northern Europe's largest shipping and logistics company, with 8,000 employees across 20 countries. When it comes to deploying electric trucks in its fleet, DFDS is in the vanguard of logistics companies.
In December 2021, it placed an order with Volvo Trucks for 25 heavy electric trucks, on top of the 100 Volvo FM electric trucks it made in October of that year. Earlier in 2023, 20 of those trucks debuted in its commercial fleet.
Yet Niklas Andersson, DFDS's Head of Logistics Division stresses that – although the e-trucks will have a "significant impact on our carbon emissions" – moves to decarbonise the wider logistics industry
requires "much more than financial investment".
He adds: "It's important to work with energy providers and industry leaders, like Volvo Trucks, to make our climate ambitions a reality. The transition requires the right infrastructure and cooperation across various areas of society. It cannot be achieved by working alone," he says.
Andersson also says the sale of e-trucks has been hampered by availability and cost issues, as well as by battery size.
"The size of batteries required to give sufficient power and range is an obstacle when it comes to electrifying one's fleet," he says.
DHL Supply Chain is another logistics business to introduce the first fully electric trucks to its UK fleet. The Volvo FM electric trucks are designed for high-capacity deliveries, operating at 40 tonnes and will replace polluting diesel vehicles on a range of activities.
Featuring Volvo's largest 540kWh battery, which provides 666hp, the zero-emissions trucks have a range of up to 180 miles (300km), allowing them to complete full round-trips servicing DHL's retail and automotive customers across the UK.
DHL Supply Chain CEO Saul Resnick says the new trucks "mark a key milestone in our journey towards alternative fuel vehicles and net zero goals.
He adds: "The size and capability of these trucks make them a truly viable alternative to diesel as they fully meet our needs and those of our customers.
"Following our introduction of the UK's first 16-tonne rigid electric truck in late 2020, we're proud to continue to lead the way in electric commercial transport."
"Early feedback from drivers has been extremely positive, especially with regard to acceleration and hill performance," Resnick added.
Speaking to Supply Chain Digital upon his appointment in September 2022, Resnick said the company's net-zero roadmap was "a major business priority", and that it would be "focused on the long-term benefit, not just the short-term return".
As well as EVs, DHL Supply Chain UK & I, is also accelerating its investment in gas trucks and plans to have 500 gas-powered vehicles operating across its fleet by 2025.
As the DFDS and DHL Supply Chain initiatives suggest, it is Volvo Trucks that is blazing the EV trail in logistics, with the company now having sold 4 300 electric trucks globally across 38 countries.
In Europe, it is the market leader, with a 32% market share, while in North America nearly half of all heavy electric trucks registered in 2022 were Volvos.