Top 10 supply_chain_digital
Top 10 tools to manage your workforce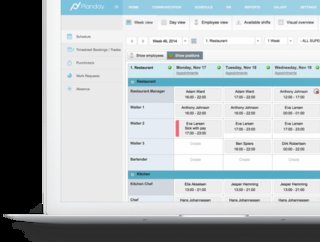 When you have a workforce spread throughout the world, it can often be tricky to manage teams and individuals. Here are some tools that can help you...
When you have a workforce spread throughout the world, it can often be tricky to manage teams and individuals. Here are some tools that can help you to streamline project management, improve the hiring process, and make it much easier to organise staff schedules.
Google apps
Google's range of apps make it easy to collaborate and keep in touch. Google Docs is a particularly useful tool that allows users to collaborate on documents, share them easily and make changes quickly and easily. As this is all done online, it works well for teams with remote workers or multiple staff locations.
The email app is also fantastic for anyone who needs a company email address but wants the flexibility of being able to access it anywhere.
Basecamp
This project management tool is a great way for groups of people to collaborate on a project. The simple interface allows users to keep up-to-date on a project. Tasks can be created, assigned and edited so everyone knows what they are doing and when. Users can also upload important documents so everyone to be kept in the loop.
The great thing about it is that you can try it for free before committing to one of the paid plans.
Planday
This simple scheduling tool allows you to keep track of employee time. Schedule shifts, track hours worked and export it all to payroll at the end of the month. It's also an effective way to manage things like requests for holiday, shift swaps and days off.
Related: How procurement can drive flexible workforce programs across international borders
Jolt
This management software will simplify all your managerial processes. There are tasks and checklists for everything that needs to be done, a separate section for any inspections that need to be carried out, an employee scheduling tool, and a database of training materials that can be distributed to different locations.
Job Logic
This helps to minimise unnecessary paperwork by bringing all jobs, invoices, quotes and purchases into one system. Your workforce can access all the necessary information they need to get a job done straight from their mobile, which reduces the need for repetitive phone calls.
DATIS
This HR tool allows you to handle tasks such as recruitment, timekeeping, talent management, workforce analytics and more.
UltiPro
This is another HR tool that offers a comprehensive view of the employee lifecycle from recruitment through to retirement. This cloud software can be used to help recruit new staff, promote from within, conduct performance reviews and track attendance.
Greenhouse
This offers tools to manage the entire recruiting process. Not only does it help to find the right person for the job but it can streamline future recruiting processes with A/B testing of different talent sources and job boards.
Salesforce Work.com
For organisations looking to improve sales performance across the business, Work.com from Salesforce is a great choice as it allows you to align teams and individuals around a broader objective. It's useful in motivating people towards a common goal and can be used to reward employees for their hard work.
Threads Culture
Employee culture is so important and this software can help to strengthen company identity and find people who have ideals and goals that align with the company's core values.
Managing a workforce of any size takes a lot of planning so it's important to use the tools at your disposal in order to be as efficient as possible.
Follow @SupplyChainD