Top 10 supply_chain_digital
Top 10: Automated Warehouses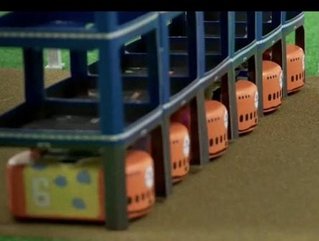 Before we get you into the Top 10 Automated Warehouses, you might want to check this article out
Before we get you into the Top 10 Automated Warehouses, you might want to check this article out as it appears in our March Issue of Supply Chain Digital. Trust us, it's way cooler to read this article when you can flip through our user-friendly e-reader. 
10. WALMART
You can't compile an automated warehouse list without putting this warehouse giant on it. We left Wal-Mart at No. 10 because it doesn't really have warehouses per se, unless you consider the fact that every Wal-Mart superstore is essentially a consumer-operated automated warehouse. You can kind of say it's automated because the hordes of consumers that pile into Wal-Mart each day are kind of like robots the way they zig-zag through every aisle.
9. COCA COLA
Coca Cola's fully automated warehouse for the EMEA region is a sophisticated facility that provides on-site storage, thus eliminating the expensive double-handling task that bogs down logistics when shipping stock off-site to local warehouses. Delivered by FKI Logistics, Coca Cola's warehouse houses 25,224 pallet locations and is designed to accommodate future expansion of the factory.
8. NETFLIX
 "Wait a minute, that doesn't look anything like an automated warehouse!" That's probably what you're thinking if you watch this awesome Netflix video. You're right because those people are most certainly not robots. Netflix uses humans to send off those DVD copies of "Black Dog" and "A Walk to Remember" each and every day. Some futurists might be calling for robots to optimize Netflix, but with next-day shipping for every order, you cannot question the efficiency of this human-automated warehouse.
RELATED: Oracle's Top Tips for Supplier Relationship Management
7. AMAZON.COM
Amazon.com fulfillment centers are located all over the world, including 18 in the U.S., 20 in Europe and 10 in Asia. Interesting enough, none of the Amazon.com fulfillment centers are located within 500 miles of the headquarters in Seattle, Washington. There aren't enough resources for each of these to be state-of-the-art automated warehouses, but they do deploy a certain degree of automation. Amazon basically used this massive network of strategic locations to become the largest online retailer in the world.
6. FEDEX SUPERHUB
FedEx uses 4,000 employees during the day and 8,000 at night so it's not a fully automated operation by any means. But the SuperHub is still an unbelievable facility with plenty of automated solutions that keep FedEx connected to any point on the globe. There are 300 miles of conveyor belts that help support the nearly 3.3 million packages that come through Memphis International Airport each day.
5. NIKE
Nike's "Distribuzione" is an automated warehouse for the European region that holds more than 25,000 SKUs and also where 43 million items are handles each year. The heart of the system is a 280 meter long loop sorter, which handles both automated inbound and outbound orders.
4. IKEA
IKEA, the Swedish international home products manufacturer uses automated warehouse services to send distribute those connect-me-if-you-can home items to locations all over the world. With furniture that is found in so many of today's homes, IKEA can be thought of as the leading furniture logistics company. IKEA grossed about € 23.5 billion in 2010, and it was able to drive out significant costs with the implementation of automated warehouse solutions.
3. UPS WORLDPORT
Worldport is the worldwide hub for United Parcel Service and it's located at the Louisville International Airport in Kentucky. The automated services used at the sorting hub helps UPS handle 84 packers per second, or 416,000 per hour. UPS really does love logistics, and one reason it does is because of the automated distribution systems at Worldport.
RELATED: The Best U.S. Trucking Companies to Work For
2. DIAPERS.COM
Diapers.com was founded in 2005 and quickly became the largest specialty retailer for baby products. Diapers.com set out delivering diapers, wipes and formula to parents with free 1-2 day shipping, but eventually expanded to include clothes, car seats, strollers and toys and you can check out this awesome video to see how it all goes down. Think about the awesomeness of this solution. You can order diapers for your child while sitting on the couch in your boxers watching ESPN. It doesn't get much better than that.
1. ZAPPOS
An empire built by Tony Hsieh, Zappos gained widespread notoriety for delivering items within 24 hours of a purchase. With the help of its automated warehouse, Zappos grossed over $1 billion in 2009, which eventually led to Amazon.com paying $1.2 billion deal to acquire Zappos. As you can see from the video, Zappos deploys fully automated warehouse services from KIVA Systems to help the company get the most efficiency out of its operation in Shepherdsville, Kentucky. Zappos is able to maintain free shipping, a 365-day return policy and a full-time call center only with the help of its automated warehouse. Zappos is quick, free and easy … just like … Nevermind.
RELATED: SAP, Oracle and Accenture weigh in on Inventory Reduction
 
The Top 10 Automated Warehouses