Tim Cook: Supply chain guru behind Apple growth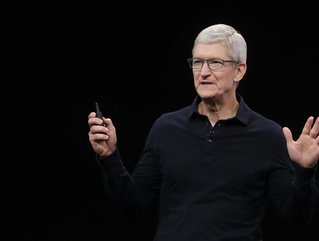 Apple CEO Tim Cook joined as supply chief when Apple was struggling, and with his just-in-time inventory genius turned things around
Probably more than any multinational company in history, Apple is the corporate incarnation of its owner. Steve Jobs was Apple, and Apple was Steve Jobs.
So back in 2011, when the world learned that Jobs was terminally ill with pancreatic cancer, analysts predicted a rocky road ahead for the company. They weren't alone; few could envisage the company without its inspired, iconic and occasionally tyrannical leader.
But Jobs himself had no such fears. Long before his death he knew that his Chief Operating Officer, Tim Cook, was the best person to take the company forward. Accordingly, it was Cook who served as interim CEO in 2009 when Jobs was on medical leave.
Apple inventory model Tim Cook's doing
Why did Jobs choose Cook? Because more than anyone, it was Cook who had ensured Apple's phenomenal growth by never allowing the supply of its products to be outstripped by demand, even when demand was stratospheric.
Cook joined Apple in 1998, having been recruited by Jobs. "I knew it was a once in a lifetime opportunity to work for a creative genius," Cook said at the time.

With a degree in industrial engineering, he spent 12 years at IBM, and had a short stint at Compaq, before joining Apple as senior VP of worldwide operating, going on to serve as executive VP for worldwide sales and operations.
But when Cook joined Apple it was a very different company to today's behemoth. It was in decline. There was no iMac, iPod, iPhone or iPad, nor streaming services. Its product range was jaded and unfocused.
Yet less than a year after Cook joined, Apple was reporting profits. As the visionary Jobs came up with one era-defining product after another, Cook made sure they were always available, and in huge numbers.
An early Cook ploy was to buy US$100mn of holiday season air freight, months in advance. This cut out competitors, and left them scrambling to ship products during the holiday season.
But he realised very early in his Apple career that the company's supply chain was unwieldy, over-complex and unresponsive, and so he moved Apple to a just-in-time (JIT) manufacturing model - a process he had overseen in his time at IBM.
Cook slashed Apple suppliers numbers
Cook pared back the number of supply chain vendors from more than 100 to 24, reduced the number of warehouses by half and established relationships with contract manufacturers.
Cook loathes inventory, telling Forbes he finds it "fundamentally evil". "Inventory is like dairy products," he has also said. "No one wants to buy spoiled milk."
Thanks to his JIT supply model Apple is able to turn over its inventory once every five days. Apple's ability to launch, manufacture, and ship millions of iPhones globally like clockwork - with virtually no inventory surplus - is held to be a miracle of JIT.
Cook's supply model may have been severely tested by the global pandemic, but then what supply chain hasn't been?

On a personal level, one thing Cook shares with Jobs is a fierce work ethic; he starts work at 4am every day.
"It's the one time of the day when I'm in control," he has said. "Things happen throughout the day that kind of blow you off course. The morning is yours."
As CEO he also stays in touch with Apple's customers.
"I read an extraordinary number of customer emails," he says. "It keeps my hands on the pulse of what customers are feeling, thinking and doing."
Little wonder that during his tenure as CEO, Cook has doubled the company's revenue and profit, and the company's market value has increased from US$348bn to $1.9tn.
Steve Jobs may have built Apple, but it is Cook who has extended it.