Supply Chain Risk Management
Real-time Satellite Data: Keeping Supply Chains Moving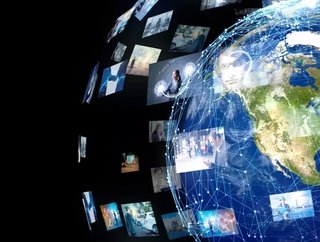 EY tells the world how real-time satellite data has helped keep global supply chain networks moving during the COVID-19 pandemic
The manufacturing hubs of the world have been quietly but smoothly producing goods left, right, and centre, for decades ─ centuries, even. Unless finite resources are in short stock, the manufacturing process doesn't see too much disruption bar the positive changes brought about by technological advancement and cash inflows. 
However, the past couple of years haven't exactly gone "without a hitch", with global supply chain networks experiencing unprecedented bottlenecks and logistical delays in the looming shadow of COVID-19, and in Britain's case, its Brexit-shaped divorce from the European Union. 
Now, you will already know, a bottleneck or any other sort of disruption along the supply chain can have major knock-on effects and consequences to the whole business process; so, in light of recent events, it'd be safe to assume that visibility and the power of predictive analytics are set to be absolutely imperative for companies that intend to maintain a competitive edge over their market rivals. 
The Logistics Bureau, a consulting firm that unlocks hidden savings across supply chains and logistics for corporations, found that 79% of companies with high-performing supply chains achieve revenue growth greater than their industry's average. This indicates that a supply chain is actually a strategic tool that manufacturers can and should be leveraged to improve operations.
How do you respond when certainty is in short supply?
But how can companies achieve that competitive edge? Statistics suggest that there's a select number of organisations that we can most probably learn from. 
Consultants at Ernst & Young (EY), one of the world-leading multinational professional services networks, confirm that the answer is locked behind data. More importantly, real-time data analytics. Having already spent decades working alongside some of the world's largest advanced manufacturing companies, it was natural for EY to assist them in adapting their supply chain operations to suit the new "norm" of a pandemic-stricken world, and data proved crucial to their success. 
Immediately, experts from the firm honed in on critical points of the chain and deployed advanced analytics, including process mining and satellite imaging, to help their clients to anticipate customer demand while maintaining the flow of goods through key, strategic ports.
Using advanced analytics to avoid supply disruptions
According to EY, they asked their clients three vital questions: 
What if we need to explore alternate routes to market?

Do current production flows make sense when some customers are shutting down while others are ramping up?

How can data and analytics help us make real-time decisions that will keep supply chains functioning effectively? 
Using satellite data to make better choices
Predictably, knowing what is happening on the ground is absolutely critical to any successful operation ─ if you don't know the five W's, then there's probably not too much hope for the job at hand. Fortunately, modern technology allows companies to access real-time satellite data, which tells them exactly what is going on at crucial strategic ports around the world. 
This gives companies the ability to identify the biggest risk areas and potentially mitigate congestion and delay-related problems before they send products down the supply chain by re-routing material flows.
This level of insight enables EY's clients ─ and could enable your company ─ to make better-informed decisions to maintain a consistent flow of vital goods. And, incidentally, as we hit the midway point of Mental Health Awareness Month in the United States, EY states that this additional visibility and access to real-time data alleviates a lot of the stress and anxiety involved in making judgement calls in times of crisis. That's a massive plus for increasingly stressful roles in the supply chain sphere. 
Building a data-driven approach to supply resilience
"Armed with new knowledge, our client is getting essential goods to the people who need them most" is the line that EY runs with at this point.
To be honest, it's true; efforts like these have helped to ensure that the global supply chain network maintains a level of resilience amid the COVID-19 pandemic, which has been absolutely crucial to the timely delivery of PPE, medical supplies, vaccines, and all the day-to-day goods that we didn't even realise we relied on. 
With the technology available today, advanced manufacturing companies and, indeed, supply chain-related organisations can deploy systems with a data-driven approach that give them a unique ability to manage their risks, ensure minimum disruption to supply chains and continue to run their business operations as efficiently and effectively as possible during times of heightened adversity and uncertainty. 
The visibility that advanced, real-time data analytics provides can, quite literally, save lives.