Supply Chain Risk Management
Q&A with Ivalua's Global Head of Manufacturing Sundar Kamak
By Charlie Steer-Stephenson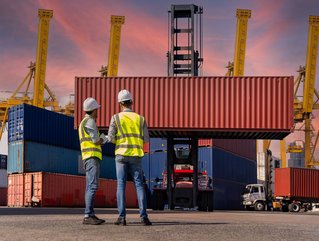 We chat to Ivalua's Sundar Kamak about how manufacturers can tackle ongoing supply chain disruptions through risk management and digital transformation
From non-compliance to supply shortages, the supply chain has faced an array of challenges over the past few years. As Head of Ivalua's Global Industry Solutions Team, Sundar Kamak works with manufacturers to help them manage the constant disruptions and risks threatening supply chain management. With the gradual arrival of Industry 4.0, it's also part of Kamak's job to support manufacturers in designing and implementing their digital transformation strategies.
After being educated as an engineer, Kamak began his career in the aerospace and automotive industries. This is where he developed his interest in manufacturing and supply chains. From then, Kamak spent 20 years in the source-to-pay procurement space, before joining Ivalua to take lead in the company's industry solutions and pre-sales team.
Q: What led you to the supply chain industry?
"Since starting my career in the aerospace industry, I have been interested in helping manufacturing companies drive automation and efficiency in their supply chains through technology. I enjoy working with manufacturers around the globe to understand the problems they're looking to solve - whether that's lack of resources, labour shortages, or supply chain disruptions - and helping to address some of these challenges with holistic supplier management."
Q: Can you tell us more about Ivalua?
"Ivalua is a unified, cloud-based spend management platform that offers organisations a smarter and more holistic approach to procurement. Underpinning everything from supply chain resilience, ESG initiatives, product innovation, and supplier collaboration, Ivalua's platform gives firms a clear view into their suppliers to reduce risk across the supply chain.
"The platform enables manufacturers across the globe to effectively manage spend and suppliers, even during times of crisis. For instance, global automotive parts supplier Meritor turned to Ivalua to digitise its complete product and supplier lifecycle. Historically, Meritor's
procurement function had relied heavily on inefficient processes like email, shared drives, and hard drives – meaning that it wasn't operating in ways to support supplier collaboration or launch new products quickly. By leveraging Ivalua's platform to support its digital transformation, Meritor was able to drive improved collaboration and efficiency across the entire source-to-pay (S2P) process, helping to accelerate product innovation and growth."
Q: How has supply chain disruption impacted the manufacturing industry?
"Supply chains have been pushed to the brink over the last few years, and manufacturing has been hit the hardest. This is because manufacturing supply chains are typically much longer and more complex than in other industries – compounding the risks of issues like natural disasters, child labour and modern slavery, and fluctuations in tax and exchange rates – and making disruptions hit even harder.
"In fact, recent Ivalua research found that 84% of procurement leaders in manufacturing say dealing with supply chain disruptions has been the most significant challenge of their career to date. The severe turbulence faced by manufacturers has the potential to damage both their corporate reputation and bottom line – so it's hardly surprising that bolstering their supply chain resilience is a key priority for them."
Q: What findings surprised you most from this recent study?
"While the cost-of-living crisis is not just causing huge disruption to consumers, it's surprising to see the effects it's having between businesses and their suppliers as inflation grips supply chains. Ivalua research found that almost three-quarters of buyers believe that their suppliers are taking advantage of supply disruptions to raise prices, highlighting animosity between suppliers and buyers at this critical time.
"Instead, we need greater collaboration between manufacturers and suppliers to ensure that everyone is on the same page about supply disruption and rising prices. As inflation, supply shortages, and the cost-of-living crisis continue to bite, manufacturers must work more closely with suppliers to drive sustainable cost savings, develop innovative products, and mitigate risks where possible. Manufacturers need to understand their supply chain, so they can plan for future disruptions and work with suppliers to find a way through it. Given the current turbulence, it's more important than ever to foster strong supplier relationships, rather than damage these critical ties."
Q: What results did not shock you?
"Technology challenges in manufacturing supply chains are a longstanding issue, so it was unsurprising to see over two-thirds of respondents say that they are not confident that their existing technology can adequately handle current supply challenges, or those expected in the next three years.
"Many organisations struggle with poor quality and dispersed data that resides in multiple systems, making it difficult to analyse and gain meaningful insights from. This means it's near impossible to gain true visibility of their supply chain.
"Organisations need a complete picture of their suppliers and spend to tackle disruption to manufacturing, as a 360-degree view of the entire supply chain will help them to better forecast future risk. Bringing supplier data together onto a single, unified platform would help to minimise the technology challenges they're currently facing, as well as boost efficiency and improve supplier transparency – all of which are critical to manage risk effectively."