Supply Chain Risk Management
Moving manufacturing from China 'impossible for many'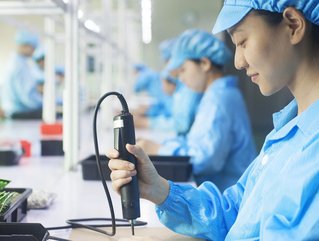 Manufacturing's shift away from China is being driven by factors including rising labour costs, the trade war with the US and concerns about China's political and economic stability. Yet many companies who want to move will find it "borderline impossible", warns Michael Farlekas, CEO of e2open.
e2open CEO Farlekas warns that many businesses looking to move production away from China face 'borderline impossible' logistical challenges
China's days as the world's leading manufacturing hub might be on the wane but many businesses will find it next to impossible to move production elsewhere, a leading supply chain professional says.
Manufacturing's shift away from China is being driven by factors including rising labour costs in China, the ongoing trade war between the United States and China, and concerns about China's political and economic stability.
Examples of major businesses considering moving some of their manufacturing away from China include Intel, Microsoft, Nike and Dell.
Countries that are growing as manufacturing centres include Vietnam, India, Mexico, Indonesia, and Bangladesh.
But Michael Farlekas – CEO of e2open, the networked supply chain platform provider – tells Supply Chain Digital that, for some companies it may be "borderline impossible" to move manufacturing operations away from China.
"While some companies can achieve a decouple, for certain industries it might be borderline impossible, because China is a major producer of consumer electronics, machine learning, electric batteries, nuclear energy and most technology," say Farlekas.
He adds: "China also processes many raw materials such as aluminium, natural graphite, steel and more that are tapped for various products."
Farlekas advises businesses planning a move away from China to have absolute clarity on the reason behind the decision, "whether it be labour costs, trade disputes, desire to access new markets or geopolitical risks".
He adds: "Leadership would have to consider factors such as infrastructure, economic conditions, logistics, potential risks and more."
Even with clarity on this, he says companies need a relocating and operating strategy that pinpoints production locations.
"Stakeholders will be a large factor in this shift," he says, "as they can share any type of pertinent regulation and permit information."
He continues: "For example, if a renewable energy company were to shift production to a more sustainable area in the UK, stakeholders would be responsible for sharing any type of permit information they would need to know to navigate the regulatory landscape."
Moving production from China 'hugely complex'
Farlekas adds that businesses seeking to loosen manufacturing ties with China must also form supply chain strategies to accommodate the new location, such as distribution channels and suppliers.
"After completing the transition, executives must then monitor and optimise progress to ensure that the move meets the stated goals over time," he says.
He points out that, over and above all this, there's "also a need to set up additional technical and digital infrastructure to the supply and manufacturing base in other countries, along with the ability to quickly shift from one region to another".
"Think of it as shifting from a supply chain framework to a supply network framework," he says..
Farlekas adds: "Moving production away from China is a complex and time-consuming process. It requires cautious consideration of several factors.
"Companies should rely on their legal, financial and logistics teams to help ensure a successful transition."