Supply Chain Risk Management
US reshoring is supply chain success - Kearney report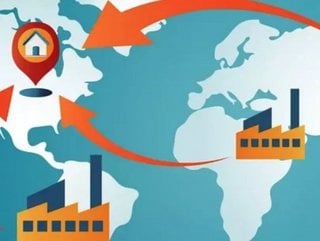 Kearney's 10th Annual Reshoring Index Report shows that the road to reshoring is harder than many companies expect, and requires thorough preparation and strategic planning.
Kearney Annual Reshoring Index shows that up to 96% of US CEOs are committed to reshoring as a supply chain resilience strategy
A study released by global consulting firm Kearney finds that reshoring initiatives have been so successful that companies yet to adopt the approach are scrambling to find facilities in Mexico and the United States.
Kearney's tenth Annual Reshoring Index Report also shows that the road to reshoring is harder than many companies expect, and requires thorough preparation and strategic planning.
The findings echo a report from Reuters Events earlier this year, showing how strong the reshoring trend has become.
The Reuters report – produced in conjunction with A.P. Moller-Maersk – showed that for European businesses, the countries with the two largest manufacturing workforces, Germany and Poland, are the most attractive sourcing and reshoring locations.
Kearney's Reshoring Index has the US as its focus, and tracks the extent to which America is reshoring manufacturing from low-cost countries and regions (LCCs) in Asia that have benefitted for decades from US companies offshoring their manufacturing operations.
The Index is determined by dividing the import of manufactured goods from the 14 Asian LCCs by the US domestic gross manufacturing output, to calculate the manufacturing import ratio (MIR). The Reshoring Index reflects the year-on-year change in the MIR.
Since the first Index in 2013, Kearney has noted a shift in commercial production away from China to other low-cost Asia Pacific countries and regions, as well as Mexico.
In Asia the shift has been primarily towards Vietnam, Taiwan, and India, but Mexico now also accounts for a larger share of US imports in the past few years.
Mexican-made goods growing fast
Since the start of the pandemic, American imports of Mexican manufactured goods has grown from $320bn to $402bn. This includes many Chinese companies, that now have manufacturing operations in Mexico, in order to be closer to the US domestic market.
The latest Index suggests that as many as 96% of CEOs are evaluating reshoring as a strategy, an increase of 18% on 2022. Most already have committed to reshoring, or are already reshored.
The trend is consumer-driven, with US consumers now inured to paying a premium for American-made products. Consumers are more concerned about companies' ESG compliance on cutting carbon emissions and human rights violations.
Other factors fuelling reshoring include new policies from the US Government and access to increasingly affordable automation.
"We seem to be heading toward a sustained reshoring movement," says Omar Troncoso, a Partner in Kearney's Consumer and Retail Practice. "Reshoring is becoming both a cause and an effect of companies significantly rethinking how they construct and operate a supply chain that will carry them forward into the next decade."