McKinsey: Procurement AI to tackle semiconductor demand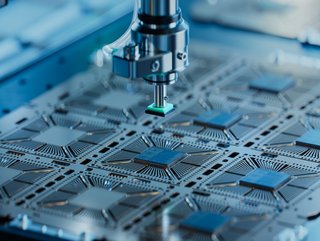 Global semiconductor capacity grew at 7.6% a year on average from 2015 to 2022, but the growth is forecast to slow down to 4.9% a year from 2022 to 2026
Unstable supply and demand for semiconductors is driving the use of artificial intelligence (AI) among procurement to optimise the function short-term
It is no secret that the supply of semiconductors has been turbulent. It has been and remains a core challenge for global organisations particularly those in the manufacturing of cars, consumer goods, and technology holding back production and putting profits at risk.
Recent findings from McKinsey, have highlighted the rise in artificial intelligence (AI) being used to drive supply chain resilience with real-time insights into pricing and demand fluctuations.
"The reasons for these semiconductor bottlenecks include limited capacity, high demand, and overordering—which means that they are likely to persist through 2023,2 explained McKinsey. "The most extreme pressure will be on mature chips for everyday applications, such as cars, electronics, home appliances, and medical devices."
Supply and demand mismatch is likely to continue beyond 2023
Recent past indicates that supply challenges will continue to be a high priority for C-suites, as geopolitical instability continues McKinsey states that the most likely scenario will be waves of supply and demand mismatch across chip sizes, industries, and production facilities.
"Manufacturers need certainty of supply and must identify and onboard new suppliers rapidly. Continuing supply constraints present a significant challenge. Furthermore, many companies are constrained by limited procurement setups that focus on just a few suppliers and distributors and miss many others," said McKinsey.
However, in more positive news, a new generation of tools combining human expertise with AI to speed up the discovery of suppliers is emerging to streamline the identification process. "By moving away from manual approaches, teams can scan hundreds of proprietary, public-source, and commercial databases simultaneously—helping them to obtain the right chips in a fraction of the time formerly required," explained McKinsey.
In the short term, procurement is looking to AI to cast wider nets for suppliers and stock. Those that have used AI have reported positive results, unlocking multiple new sources even for customised parts. Combining this with machine learning companies can tailor their approach to current project needs as well as the inevitable trade-offs.
"In the short term, it may be possible to redesign critical parts, to adjust demand dynamics (for example through active configuration steering), and to adopt an EBIT-based allocation strategy."
******
For more insights into the world of procurement read the latest edition of Procurement Magazine and be sure to follow us on LinkedIn & Twitter.
Other magazines that may be of interest: Supply Chain Digital, Manufacturing Digital
******
BizClik is a global provider of B2B digital media platforms, for leaders across: Sustainability; Procurement & Supply Chain; Technology & AI; Cyber; FinTech & InsurTech; Manufacturing; Mining; Energy; EV, Construction; Healthcare; and Food. Based in London, Dubai, and New York, Bizclik offers services including content creation, advertising & sponsorship solutions, webinars & events.