Warehouse management systems vital to modern supply chains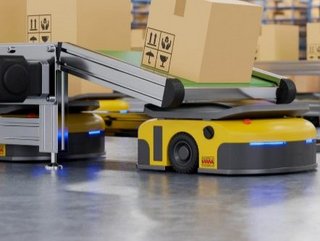 With the rise of omnichannel - and amid a lack of warehouse space and staff - it's vital for businesses to optimise every aspect of warehouse operations
The rise of e-commerce ‒ and omnichannel in particular ‒ is impacting highstreets across the globe, and the race is on for retailers and third-party logistics (3PL) providers to secure more warehouse space and capture a share in this growing market.
In the UK alone, warehouse space has increased by 73% since COVID-19 restrictions began in March 2019. Yet warehouse capacity is increasingly difficult to come by. Plus, there are ongoing warehouse staffing issues ‒ a problem that pre-dates the pandemic but is now more pronounced than ever.
The shortage of both warehouse space and staff comes at a time when businesses are seeking to service increasingly high customer expectations. In an omnichannel world, speed and accuracy of delivery is everything, with the average consumer expecting products that are not only made to order and easily returned, but that also arrive when expected.
This is where warehouse management systems (WMS) come into play.
Warehouse management systems go back to ancient Egypt
The concept of warehouse management is nothing new. It originated in Ancient Egypt, whose people managed grain stores by keeping records on papyrus, to prevent famine in times of drought. The basic concept of managing warehouse inventory has not really changed, it's just gotten far more complex.
Used optimally, today's WMSs can enhance a business's productivity, boost efficiency, and lower costs by digitising processes. They also help avert slow shipments, inventory management errors and incorrect product details ‒ all of which can prove costly and lead to unhappy customers.
These software solutions also provide a holistic overview of operations. For example, having an accurate, real-time view of inventory means that companies can effectively gauge stock needs and avoid back orders.
WMSs can boost worker productivity
A WMS can even be used to boost productivity amongst workers, matching them to specific jobs at the right time, and guiding them around the warehouse in the most efficient manner.
Increasingly, WMSs are being allied to automation and robotics, to provide a 360-degree warehousing solution.
Robots can make warehouse operations more efficient and productive, while reducing errors and improving safety. It's estimated there will be around 50,000 robotic warehouses by 2025 with over 4 million robot installations. As of October 2021, Amazon alone had around 350,000 mobile drive-unit robots.
One company that has done more than anyone to marry WMSs with robotics and automation is SAP. Mindy Davis is the company's VP, Global Marketing, Digital Supply Chain. A SAP veteran of 17 years, Davis had a minor in logistics from university and her first job was working in a warehouse, for a distribution company in Atlanta.
"It was my introduction to how digitalising inventory management systems can bring them to life," she says.
Davis says that, during the pandemic, SAP was tasked with helping customers align supply with demand.
"We were able to dig them out of this hole, thanks to our Extended Warehouse Management (EWM) solutions," she says.
SAP WMS pares back excess inventory
"EWM helps ensure you are not carrying excess inventory, so that it's aligned with what your demand plan is," she says. "It's also about making sure you're prioritising customer loads. Let's say, for example, that I have 10 customers for whom I need to deliver. I can assess the financial impact of which customer is the most profitable and prioritise that load. This means that, whether it's by road, rail, sea or air, you're delivering the perfect order at the right time and that is also matched to the customer's requirements."
With warehouse capacity at a premium and staff tough to recruit and retain, robotics is increasingly becoming a part of WMS solutions.
Mobile robots are particularly helpful for moving goods from warehouse shelves to fulfilment zones. They can also be programmed to perform duties traditionally carried out by conveyors, manual forklifts, carts, and towing machines.
"Robotics is an interesting one," says Davis. "It's kind of counterintuitive as to how it works, because you'd think warehouse robotics are simply a means of reducing the need for staff. But actually, it can help you scale your workforce. As companies grow, they can order robots for any task that they need to take care of on the plant floor or in the warehouse."
Bechtle uses SAP robotics to keep deliveries on time
And this is exactly what SAP customer Bechtle has done. Bechtle is a 100-year-old, US-based global engineering, construction and project management company. It works on civil infrastructure projects and was involved with the building of the Hoover Dam and the Channel Tunnel.
Christian Dippisch is Innovations Manager at Bechtle Logistics & Services in south-west Germany. He says the company "has been expanding for years" and that the pandemic reinforced the need to keep deliveries on time. "So we had to strengthen and automate our logistics, and the solution was to introduce robots."
Dippisch reveals that - using SAP Warehouse Robotics, in conjunction with SAP Extended Warehouse Management - the programme took just four weeks to implement.
"We expect to be able to reduce costs by around 30%," he says. "We've effectively converted our operations into being completely Industry 4.0 driven."
He adds: "The robots support our warehouse employees in their daily tasks. They're guided by 3D laser scanners, which helps them operate safely side-by-side with humans. The great thing is we can easily scale, by adding robots on the fly.
"Integrating all types of robots from different manufacturers for different tasks will increase our flexibility. This will ensure on-time deliveries and meet our goals for growth."
The way Bechtle has reinvented its warehouse operation using WMS allied with robotics is "definitely a future vision for SAP", says Davis: "Our customers want to make sure they can not only scale their operations, but also help their employees to move product ‒ all with a view to keeping their own customers happy."