US supply chain workers face vaccine mandate deadline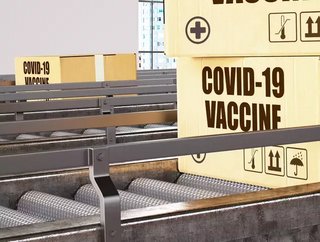 US transport and logistics chiefs warn of further supply chain chaos, as Biden's Covid vaccine deadline looms
For thousands of unvaccinated workers in the US, today (November 3) is the deadline for receiving their first Pfizer Covid shot. Those who refuse a jab face losing their jobs, something logistics chiefs say will place already backed-up supply chains under even more pressure.
US President Joe Biden last month mandated that federal contractors be fully vaccinated by December. 8. With a three-week gap between shots of the Pfizer BioNTech vaccine, that means federal workers must have the first jab by today. If the government holds fast to its deadline, it's already too late for such workers to choose Moderna's vaccine, which is given in two doses four weeks apart. However, they could opt for Johnson & Johnson's single-shot vaccine until November 24 in order to meet the deadline.
Biden vaccine mandate
The president's vaccine mandate prompted industry warnings that supply chains would be badly affected. Logistics firms in industries ranging from trucking to warehouses said Biden's hardline approach will cause further supply chain backlogs.
Supply chains in the US are already struggling to keep pace with skyrocketing levels of online shopping, prompted by the lockdown, with many US ports gridlocked with cargo vessels. Shortages of key workers, such as truck drivers, has further slowed the movement of goods.
Transportation groups are now requesting exceptions to the vaccine mandate for key supply chain employees. Vaccine requirements could cause trucking companies to lose up to 37 per cent of their drivers to retirements, or to smaller carriers that aren't subject to the rule, the American Trucking Associations has warned.
Supply chain holiday misery  
Speaking to Bloomberg, Marc Freedman - vice president of workplace policy at the US Chamber of Commerce warned: "There is potential for even further disruptions in the supply chain going into the holiday season. Companies involved in transportation and logistics are particularly concerned."
Meanwhile, a group representing wholesale and distribution companies warned that thousands of warehouse staff and other mid-supply chain employees may have to stop working.
In a letter to President Biden last week,Eric Hoplin - president and CEO of the National Association of Wholesaler-Distributors - wrote:"Come December, many companies will be unable to keep products moving through their warehouses and distribution centres to satisfy growing consumer demand, if forced to terminate these essential workers."
Other groups representing federal workers say substantial numbers of workers remain unvaccinated, and may quit or be let go at the height of the holiday season. 
Reuters reports that nearly half of the 10,000 employees at aircraft companies, Textron and Spirit AeroSystems, are unvaccinated.
"We're going to lose a lot of employees over this," head of the local Machinists Union District Cornell Beard told Reuters. He added that while many workers did not object to the vaccines per se, they've been angered by what they see as government interference in personal health matters.
US government stands firm on jabs
Despite fierce opposition to the mandate, the US government remains unmoved, insisting that vaccines remain by far the most effective way to prevent Covid hospitalizations and deaths, particularly in the face of the virulent Delta variant, which can infect even the fully vaccinated.
The Biden administration is mindful that the US has the highest number of recorded Covid deaths in the world, with 768,847 being the latest figure.
The government also points to the fact that vaccine mandates have proved effective at shrinking the number of unvaccinated citizens. Several big employers - including Procter & Gamble, 3M and American Airlines - have imposed their own vaccine mandates. And in a number of industries, including the food sector, unions have supported vaccine requirements.