Top 10 Supply Chain execs to watch in 2022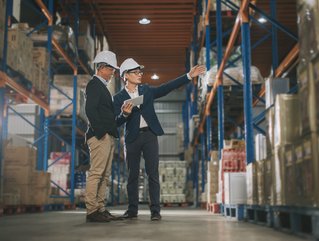 Supply chain execs have had a busy two years. Now with the respect of the world behind them, here's our Top 10 Supply Chain execs to watch
After a challenging two years for the supply chain, the next ten years are expected to welcome in even more supply chain changes.
These Top 10 Supply Chain execs will be leading the way.
Director of Open Source Solutions at Guidehouse
In his third decade of serving private and public sector clients, Dury is especially proud of identifying impacts of the COVID-19 pandemic and assisting clients in understanding, in record time, how they were being impacted and the mitigation measures to address those issues.
Vice President, Supply Chain Management at General Dynamics Mission Systems
"Supply chains evolve over time," "The coming years will likely be one of those eras of dramatic transformation thanks to a combination of accelerating technology development and widespread experimentation with new operating models and the realisation of what impact a pandemic can have on supply chains," said Miller.
Vice President, Supply Chain at CACI International
Through the challenges of the pandemic, Bill Mertz has used his partnerships to create new procurement avenues in order to lower risks and still meet the needs of customers.
Mertz's main focus is to continue the transformation of CACI's supply chain departments and continue to support the needs of the business.
Federal Supply Chain and Operations Practice Lead at Accenture Federal Services
Paul Ott invests in emerging technologies such as digitization and AI in order to modernise industrial operations, improve fleet utilisation, keep frontline workers trained, connected and above all, safe.
"We promote a partnership model with our clients, so that supply chain strategies and solutions are executable and resonate throughout the organisation," he said.
Senior Vice President, Chief Procurement Officer at Science Applications International Corp.
"Take care of our employees, connect them to the mission and each other," says Richards. "We have to get the people part right, and the rest will happen."
Richards is focused on supporting growth and knowledge-based decisiveness within her team, as well as raising the game in her business.
Director of Supply Chain Management at LMI
Before the pandemic, supply chain resiliency was not a subject the general public were aware of. Despite the suffering caused by the pandemic, Niehaus is proud of the new awareness.
"It is an issue that is commanding our collective attention. It impacts our national security and economic prosperity," Niehaus said.
Vice President, Global Supply Chain Management at PAE
Randy Hurst reorganised PAE's National Security Solutions Business Unit Global Supply Chain Organisation.
"Talent acquisition has been key to this achievement," Hurst said. "In this difficult job market for employers, I was able to increase my team by 40%, attracting difference makers that will take our organisational performance to the next level."
Partner at Kearney
As the devastation of COVID-19 became clear in the spring of 2020, Ryan Elliott organised his team to develop a rapid response solution.
"While many facilities fared better than we originally anticipated on the supply side, those which also took hits on the demand side required more focus," Elliott said.
Vice President, Global Supply Chain at Booz Allen Hamilton
Julia Donley heads strategy for Booz Allen's subcontracting and procurement operations, with two decades of experience in contracts management and supply chain organisation.
Donley has led financial transformation at Booz Allen through:
Streamlining the firm's global supply chain practice to consolidate all buying functions, including indirect purchasing
Direct purchasing and subcontracts
Implementing iValua in order to unify the firm's legacy supply chain systems
Donley is now focused on uplifting diversity and inclusion Booz Allen's supplier base.
Senior Vice President, Consulting, Applications, Solutions and Technology at CGI Federal
According to Wells, the 2022's will bring more transformation than what was seen in the Industrial Revolution, as the green energy shift takes over and organisations evolve into sustainable digital transformation.
"We are currently seeing, and will continue to see in the next several years, more transformation in supply chains than we've seen in our lifetimes," Wells said. "CGI will partner with our federal clients to adapt to the fast-moving changes and help them achieve their missions."