Retail goes on demand with Stuart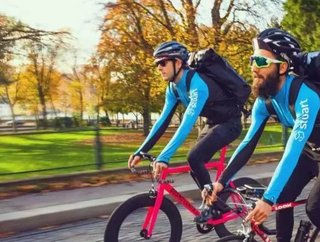 The question everyone asks David Saenz, UK General Manager of Stuart, is how the disruptive tech company came up with the name. "Its a quirky stor...
The question everyone asks David Saenz, UK General Manager of Stuart, is how the disruptive tech company came up with the name. "It's a quirky story," Saenz explains. "The two founders of the company were on a plane, talking about their idea, and the flight attendant who was serving them was called Stuart. He was engaging and personable, and they thought this represented well what the brand should be."
Stuart is an on demand delivery platform that started out in France and Spain a year ago and has recently launched in the UK. Set up by entrepreneurs Clément Benoit and Benjamin Chemla, Stuart changes the way goods are delivered in cities, connecting retailers with couriers in a way that means customers have incredible control over when and where they receive their orders. In short, it is a B2B operation providing retailers the opportunity to go beyond the usual 'three to five working days' or 'next day delivery' options for their customers, who are able to choose an immediate delivery. Or at a precise time on a specific day.
Logistics expertise
With backgrounds in logistics, Benoit and Chemla used their knowledge and experience to come up with the idea for Stuart. Saenz explains: "They had set up a successful food delivery business and realised there was a market for urgent and precise deliveries outside of the food market. The economics of a business just doing food delivery are really difficult, because you have two huge peaks around lunch and dinner, so paying drivers fair wages in the hours when they're not busy is challenging." So by working with lots of clients across different verticals, Stuart has been able to avoid the peaks and troughs of food delivery businesses. Saenz adds: "By smoothing out the demand curve, this means you can have an attractive and really efficient business."
Although Stuart wants to avoid the surges in demand of a food delivery business, it is working with food companies. It's all about variety, after all, while remaining focused on being a B2B urban logistics expert. Stuart is working with giants such as Carrefour in France and Zalando and Burger King in the UK, and it has many small, independent retailers also on its books. A customer of Zalando will shop online as normal, and when they get to the checkout, they will get more options when it comes to delivery. Saenz says: "The retailer will integrate with Stuart's API, so the customer can opt for immediate delivery or a much more precise time. The job is then assigned to a courier, who goes to retailer and picks up the package for delivery. This means that the retailer gets to outsource the tech and the logistics, but gets to keep the revenue and the customer relationship. This is really important because they maintain direct relationship with customers and customer data."
Stuart's technology team, based in Barcelona, is crucial to the company's success. "Tech is a huge part of it – being able to have cutting edge algorithms behind what we do, to make the system as efficient as possible when it comes to how couriers are assigned jobs and so forth, is a key part of the proposition," says Saenz. Traditionally, delivery companies would find efficiency – and therefore make money – through meticulous planning of delivery routes, plotting deliveries based on when it is best for the company, rather than when and where actually suits the customer. Stuart's model, says Saenz, is the exact opposite of this. "We plan nothing and we map nothing. What that does is better match the on-demand world that commerce has morphed into over the last five years. Consumers have an expectation to get something right away, to be able to change the time and location of the delivery if they want to. You want that kind of flexibility in the delivery world." So, how does Stuart find efficiency in this model? By using technology to forecast client demand and then make sure there is the right amount of supply on the platform.
With €22 million in investment, Stuart is rapidly building out its platform across Europe. After London, the next cities in its plans are Berlin, Brussels and Amsterdam.
The January issue of Supply Chain Digital is live!
Follow @SupplyChainD on Twitter.