Supply Chain Risk Management
Panama Canal drought sees supply chain chaos warning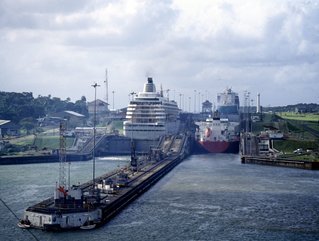 Ongoing drought in Panama means 123 vessels are currently queuing, awaiting passage through the Panama Canal, whose water levels are at record lows.
e2open and Everstream Analytics warn of supply chain chaos following ongoing drought problems afflicting key shipping route, the Panama Canal
A total of 123 vessels are currently queued awaiting passage through a drought-stricken Panama Canal, with August wait times for transit through the Canal now being between 9 and 11 days.
With further drought problems predicted, analysts are warning of a knock-on effect for global supply chains.
The problem is perilously low water levels at Gatun Lake, which feeds the locks in the Panama Canal with the fresh water needed to raise vessels as they pass from the Pacific Ocean to the Atlantic.
Severe drought has seen the introduction of strict weight limits and rising surcharges for vessels traversing the canal.
Now, just as other global supply chain problems are easing, economists say the Panama drought – as well as ongoing extreme weather patterns – are set to see a repeat of 2021's surge in shipping costs and goods shortages.
Bloomberg reports that if Gatun Lake levels continue to fall as forecast, there will be a scramble to find alternative routes from Asia to the US.
Management of the canal is overseen by the Panama Canal Authority (PCA). Following a previous drought in 2019-2020, the PCA improved water efficiency in its operations but this has had minimal effect, given the severity of the current drought.
Panama drought making goods shipments dearer
The drought already is making it more expensive to move goods, following a succession of moves since February by the PCA to reduce draft levels, which is a measure of how low a vessel can sit in the water.
To meet lower drafts, ships must lighten loads by carrying fewer containers, which means higher prices for consumer and industrial goods that move through the canal. A number of ocean carriers have also begun charging per-box container fees in response to draft limits, Bloomberg says.
Worryingly, the drought shows few signs of easing. Jon Davis, Chief Meteorologist at Everstream Analytics, told Supply Chain Digital that rainfall during the spring and summer has been the lowest since the turn of the century, with 2023 drier than both 2019 and 2015, both years that saw vessel restrictions in the Panama Canal.
"The short-term forecast into early September looks problematic," says Davis. "I do not see any kind of improvement in Lake Gatun levels in central Panama. Normally at this time of year, lake levels are increasing, as it's the wet season."
Meanwhile, Pawan Joshi – who is EVP Products & Strategy at supply chain platform provider e2open– expects the Panama canal problem to result in short-term reductions in supply, which might cause US department stores to put shipments in early.
Joshi adds: "We might also see a mixing of multiple modes, which could direct some ships to the Suez Canal and some to the West Coast to be brought by East by rail or truck."
He adds: "The Panama Canal has in the past been invested in, but it needs to be deepened and the locks revisited. We cannot unwind the global trade dependency and subsequent shipping lanes we've created so we must find ways to streamline them."
******
For more insights into the world of supply chain read the latest edition of Supply Chain Digital and be sure to follow us on LinkedIn & Twitter. Other magazines that may be of interest: Procurement, Manufacturing & Sustainability. Also check out our upcoming event in September: Procurement & Supply Chain LIVE London.
******
BizClik is a global provider of B2B digital media platforms, for leaders across: Sustainability; Procurement & Supply Chain; Technology & AI; Cyber; FinTech & InsurTech; Manufacturing; Mining; Energy; EV, Construction; Healthcare; and Food. Based in London, Dubai, and New York, BizClik offers services including content creation, advertising & sponsorship solutions, webinars & events.