Pallets: The Hidden Linchpin of the Supply Chain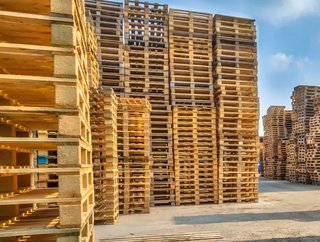 Shortages of lumber, transport, and tracking measures have made pallets incredibly difficult to procure. What's going on?
'Demand for pallets is as high as it's ever been in the 15 years that I've been in the business', says Chris Lasseter, Summerford Pallet Company, in PalletEnterprise. 'Lumber prices are astronomical if you can even get wood. Core prices are going through the roof. Nail prices are up. Fuel prices are up'. 
Ask most supply chain leaders how their pallet strategy is going, and you'll find their responses startlingly similar. Pallets transport fresh produce, chemicals, pharmaceuticals, machinery, and construction materials all over the world. And they're rapidly gaining attention as supply chain teams find it more and more difficult to procure them on schedule. 
Why Do Pallets Matter? 
Imagine shipping in bulk. You shift your packages onto a pallet and secure them with straps or shrink wrap. Following that, workers drag or drive the pallets across the factory floor to load them on trucks, where they stack up nicely. Pallets reduce loading time, improve worker safety, make logistics more efficient, and protect your products. In addition, they're ideal for SMEs and e-commerce since they allow 3PL companies to ship more products for less. 
As the UK's Association of Pallet Networks (APN) puts it, pallets help you achieve faster turnarounds and higher customer satisfaction. In 2020, its members delivered 27.8 million pallets, with a 3.2% year-on-year growth. In short, pallets are the linchpin of a successful supply chain. That's why it's a wee bit concerning that we're facing—you've guessed it—a massive shortage of pallets. 
Why Do We Have A Shortage? 
The lovely wheel of cause and effect. Simply put, pallet makers can't procure many of the materials they need to make the pallets in the first place. That's wood for the planks you nail together, wood treatments to renovate old pallets, and steel for the nails you need to hammer in. That's why, back in April, wood pallets rose by more than a 400% increase. Bloomberg reported that US$9 wood pallets spiked to US$15—not shocking by itself, but drastic once you multiply that by hundreds of pallets. 
What's more, there's a dearth of UK truck drivers. In contrast to 15% year-on-year growth in freight volumes, there's a major shortage of men and women to transport it - almost 80,000, in fact. In part, this is due to Brexit and a loss of European manpower, but we can't overlook the new IR35 rule—which ensures that contractors pay the same national tax and insurance rates as equivalent employees—an ageing workforce and new cross-border trade restrictions. 
Finally, the pallets that circulate around England's roads and freight routes aren't necessarily in the right place at the right time. Some have suggested using improved RFID (radio-frequency identification) to track where pallets are and where they're going. But while we've seen an increase in companies offering track-and-trace solutions in recent years, introducing any new tech will take time. 
How Are Logistics Companies Affected? 
They have to pass costs on to their customers and consumers. Weber Logistics, for example, has started to update its rates per pallet each Monday based on current prices. 'We're doing everything that we can do to buy pallets at the best market price', Robert E. Lilja, CEO of Weber Logistics, explains. 'We buy in truckload quantities. Unfortunately, demand is currently exceeding supply, and many pallet vendors won't accept purchase orders from new customers'. 
As a result, pallet makers doubled down to serve their current customer networks, leaving many out of the loop. 'Every pallet that we provide our clients has turned into a net loss', says Lilja. Pallet prices have risen by roughly 100% across the board. According to Bloomberg, the Producer Price Index (PPI) shows that the pallet category has risen for 13 straight months—increasing by 31% this year alone. 
When Will It Return To Normal? 
Not tomorrow by any stretch of the imagination. B&B Albany Pallet Company, located in one of the highest lumber cost regions of the US, expects a lengthy recovery. 'Our speculation is that we may see a return to normalcy in late Q4', says Dorian Orellano, Pallet Sales, Design & Production. 'But considering the supply chain bottlenecks occurring throughout the world, [the shortage] may persist into mid-Q1 2022'. 
Industry leaders think that lumber prices will also stay high throughout 2021. 'Wood is a raw material, just like iron, gas, or oil', says Luc Grauwet, Vice President of PGS Group. 'Price variations can be significant, or even speculative'. He notes: 'The market wasn't used to this kind of action. The price of wood has always been fairly stable'. 
According to John Lieber, President of Profile Technology, high lumber prices will continue through 2021 but drop back down to normal in the summer of 2022. For many, however, that's too long to wait. 
Reimagining the System 
Do we need a radical re-envisioning of our pallet supply chains? Some argue that there are better, more sustainable options to building and buying thousands of wood pallets per year. And for many, it's a decision based on cost. Rick LeBlanc says: 'A closed-loop or pallet retrieval programme—if done right—can dramatically reduce your pallet spend'. 
That means either refurbishing used wooden pallets or procuring ones that are made from recycled materials. 'Lack of supply has caused increased cost in every sector from cores and nails to labour and new lumber', explains Ronnie Barrett, Regional Manager of Pallet Systems and Recycling. 'We're seeing customers pull away from the roller coaster ride of new lumber prices by switching to recycled pallets'. 
But more fundamental than what materials we use is how we communicate these new systems to customers. Increased shipping and freight prices blindsided many. As a result, pallet companies are starting to make a greater effort to reach out. 'Now more than ever, we have to educate our customers about what's happening in the market', says Wes B. Bonine, President at Popp Brothers Lumber. 'With improved transparency, they can make more informed decisions'. 
Adds Rick LeBlanc: 'You can look at the 2021 pallet crunch as an opportunity'. We now need agile systems based on ever-changing supply and demand. As a result, lumber and logistics companies have resorted to monthly pricing. Pallet procurement teams have started to seek out plastic and recycled options. And pallets, once an everyday fixture of our supply chains, are now at the forefront of the conversation.