No, Really - We'll Meet Again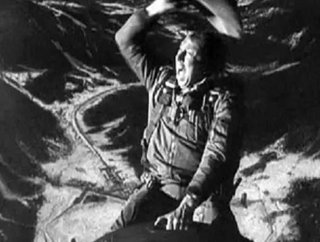 Click here to read this article in the magazine edition! Paul Tibbets, commander of the Hiroshima bombing mission, died five years ago at the ripe old...
Click here to read this article in the magazine edition!
Paul Tibbets, commander of the Hiroshima bombing mission, died five years ago at the ripe old age of 92 – with no regrets.  "I never lost a night's sleep over it," he often said.
To a civilian, that may seem callous, but soldiers make their peace with their missions long before they're accomplished.  As so many dignified white-haired veterans have told documentary crews over the years, as though it sufficed as an explanation: It was war. 
The fact is, that's what war is: it's fighting, it's killing, and sometimes it's dying.  When you're in one, the best that you can fairly be expected to do is to come out alive.  Considering how many of our soldiers didn't, it's not as surprising as all that to find out that Tibbets wasn't sorry his trigger finger ended the war.
In my mind, aside from being a Brigadier General in the United States Air Force and a decorated war pilot, Tibbets is the most famous delivery boy in history.  He brought a weapon of heretofore unimaginable destructive power – a weapon that was still volatile and poorly understood – over a vast distance, and deposited it at its destination successfully.  A hard truth, a painful truth, but a proud truth nonetheless.
The image of a single delivery altering the course of human history was so outlandish that it entered the popular imagination as a kind of existential boogeyman – the duck-and-cover, the flock of seagulls, and perhaps most potently, Stanley Kubrick's haunting image of a cowboy riding a rocket to oblivion.
It's the bizarre-o world history lesson most of us half-expected in the wake of an event like Hiroshima.  Some of it is common sense: it doesn't seem quite right to us that a package can exist that can never be delivered, or that something can be carried that can never be dropped.
Most of all, though, it's the chilling thought of just how deeply important it is simply to transport weapons of such incomprehensible power.  For many of us, as much as we may want the process to succeed, fundamentally it's a burden we don't even want to consider.
We get stuck on the magnitude of the situation – the sheer cosmic absurdity of a man being charged with delivering a package that can potentially destroy almost all life on Earth.  It's a lot to take.  "God," said Einstein in a moment of tragic wishful thinking, "does not play dice with the universe."
Paul Tibbets was a soldier in a terrible war, as well as a man who had to make a delivery.  History could well have gone the way Kubrick envisioned in Dr. Strangelove, with the world ending in an emptily ironic joke – but it didn't.  In the sole instance that a human being used a nuclear weapon against other human beings, the soldier who'd lost a lot of friends and the delivery boy who got a very big assignment both did what they had to do, and they did it well.
Hundreds of thousands of people died – men, women, and children, all at once.  It wasn't a nice thing to do.  But war is war, especially for its soldiers.  And sometimes, God does not play nice with the universe either.