How Freight Rail is Getting the US Economy Back On Track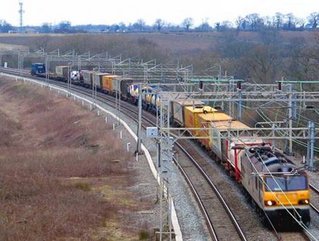 Written BY: Brett Booen Before we get you into How Freight Rail is Getting the US Economy Back On Track, you might want to check t...
Written BY: Brett Booen
Before we get you into How Freight Rail is Getting the US Economy Back On Track, you might want to check this article out as it appears in our April Issue of Supply Chain Digital. Trust us, it's way cooler to read this article when you can flip through our user-friendly e-reader.
There are 565 freight railroads in the United States. Those 565 railroads make up a nearly 140,000-mile long rail network that is used to transport imported goods that come via sea freight and air freight from far away destinations. Along with being a national heritage, the railroad is the most efficient and cost-effective way of moving goods into inner-America. Just don't tell that to UPS and FedEx, who will try to convince you otherwise.
The freight rail industry supports over 180,000 US jobs, and by all accounts that number will rise in the coming years as the government and private investors pour millions of dollars into infrastructure improvements and make freight rail capital investments. It's no surprise that Pennsylvania, an important corridor situated between Chicago and New York City has the most railroads with a whopping 58 tracks. Meanwhile, Hawaii has the least number of tracks with a whopping zero. If we're going strictly by freight rail miles, then the state where everything is bigger is No. 1 as Texas sports a network of 10,743 freight rail miles. Texas hosts three signature railway companies namely Union Pacific, Kansas City Southern and Burlington Northern/Santa Fe.
I don't mean to insult your intelligence, but freight rail is an important economic driver because freight rate volumes often tell us exactly where the state of our economy is. Take 2008, for example, when the freight rail industry nearing all-time highs. Everyone was having a great time sending their stuff across America, but then it all came crashing down in 2009.
I digress. A single train can carry the load of 280 or more trucks. In other words, a freight train essentially takes more than 1,100 cars off of American highways. The last thing anyone wants is more congestion on American highways. The Association of American Railroads (AAR) reports that congestion on highways costs $87 billion in wasted travel time and fuel each year. So not only is freight rail efficient and cost-effective, but it helps mitigate congestion from our nation's roads, which was one of the more salient points Obama talked about in his State of the Union Address earlier this year.
AAR President and CEO Edward R. Hamberger said, "The President has issued a clear call to American businesses, urging them to get off the sidelines and get back in the game by investing capital and hiring."
While President Obama and other leaders have called upon private companies to increase capital spending and rev up hiring, the nation's freight railroads have been spending record sums of private capital on the rail network and bringing people back to work. Railroad hiring at the end of 2010 was up 5.2 percent over the year before, according to the report, and railroads are positioned to hire more workers in the coming years.
Hamberger says, "Freight railroads have been in the game for the past 30 years, investing more than $480 billion to build and maintain America's freight rail network with private capital, and supporting jobs all across the country. Freight railroads have a great track record and are ready to continue investing in the national rail network so U.S. taxpayers don't have to. But, we must have a regulatory framework that supports, and does not hinder, private investment."
CHECK OUT THE TOP STORIES FROM THE WDM CONTENT NETWORK
• The Best Trucking Movies of All Time
• India Outsourced: Trends from the Outsourcing Hotspot
• The Top 10 Logistics Companies in the World
The AAR recently announced the nation's freight railroads in 2011 are planning to spend a record $12 billion on capital expenditures, after setting a record with $10.7 billion in capital spending in 2010. According to the Great Expectations 2011, Railroads and Continued U.S. Economic Recovery report, these investments are potentially threatened by regulatory and legislative policies being considered in Washington, D.C.
"Even during the worst recession in a generation, freight railroads have been plowing record amounts of private capital back into the rail network each and every year, achieving one of the highest capital investment rates of any U.S. industry," said Hamberger. "A regulatory framework that provides certainty will foster continued economic recovery and job creation."
"Ultimately, the regulatory environment in Washington, D.C., must be aligned to support freight rail's continued investments in the national rail network," Hamberger said.
It's time for the United States to revisit what regulations stand in the way of reaching freight goals, while preserving those that help ensure continued success and growth.