Historic moment as Qatar Airways welcomes world first A350 in Doha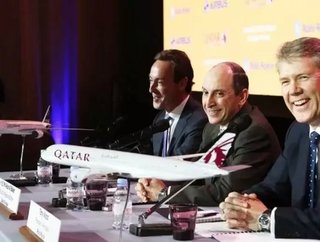 Follow @SamJermy and @SupplyChainD on Twitter.Qatar Airways wrote another page of history as the worlds first Airbus A350 XWB (Xtra Wide Body) and its f...
Follow @SamJermy and @SupplyChainD on Twitter.
Qatar Airways wrote another page of history as the world's first Airbus A350 XWB (Xtra Wide Body) and its fourth A380 arrived in Doha simultaneously, allowing the airline to further capitalise on its rapid expansion plans for 2015 and beyond.
The delivery of the newest members of Qatar Airways' fleet of 146 aircraft are the first of 80 A350s and the fourth of 13 A380s on order and mark yet another major milestone for the five-star airline. The A350 aircraft, for which Qatar Airways is the global launch customer, is set to commence service on the Doha–Frankfurt route starting in January 2015.
The world's first A350 XWB aircraft to be delivered flew to Doha from France, following the handover ceremony and press conference which were attended by Qatar Airways Group Chief Executive, Akbar Al Baker, senior Airbus and Rolls Royce officials, and more than 150 international media in Toulouse.
With the delivery of the A350 XWB aircraft, Qatar Airways becomes the first airline in the world to operate every family of Airbus' modern airliner portfolio, comprising the A320, A330/A340, A350 and A380.
After acquiring the A380 earlier last year, the addition of the A350 XWB aircraft is the second significant fleet milestone for Qatar Airways. The A350 XWB features the very latest in aerodynamics, design and advanced technologies and will set new standards in passenger experience, operational efficiency and cost-effectiveness.
Welcoming the arrival of Qatar Airways' first A350 XWB aircraft and its latest A380 in Doha, Qatar Airways Group Chief Executive, Akbar Al Baker said: "We take immense pride in taking delivery of two aircraft at the same time joining our modern and dynamic fleet that is connecting the world. As 2015 commences, we are looking forward to a new period of enhanced growth with our fleet setting fresh benchmarks for the aviation industry.
"The A350 XWB, in combination with the recently-introduced A380, will offer unprecedented levels of interoperability and a highly efficient solution to meet long-haul passenger demand on the rapidly expanding Qatar Airways' network.
"This will further strengthen our leadership position as a world-class airline providing customers with a premium five-star travel experience, exceptional hospitality and seamless connectivity around the globe."
Qatar Airways A350 XWB powered by two new-generation Rolls Royce Trent XWB engines is a perfect combination of innovative airline product design, environmental advances and the intrinsic comfort of an entirely new cabin set-up which are the hallmarks of this aircraft.
Passengers will benefit from a new boarding experience achieved by a unique dome-design entrance with welcome light distribution. The aircraft also offers wide seats with generous room in all classes of service thanks to a number of design developments offering greater comfort to all passengers.
The Business Class cabin has 36 seats in a 1-2-1 configuration featuring an 80" full flatbed TV and 17" HD in-flight entertainment screen and a spacious inflight bar. The Economy Class features 247 18-inch wide seats in a 3-3-3 configuration, each with a 10.6" in-flight entertainment screen, and more space at shoulder level for passengers in window seats due to the vertical side wall panel design.
Qatar Airways A350 XWB features the-state-of-the art Oryx entertainment system, with more than 1,000 entertainment options on individual screens in all classes. The jet also offers advanced air conditioning technology and LED mood lighting to enhance the comfort of passengers while reducing fatigue after a long flight. In addition, the jet will also offer in-flight Wi-Fi connectivity for all passengers allowing them to surf the web on the go.
Qatar Airways is one of the fastest growing airlines operating one of the youngest fleets in the world. Now in its 17th year of operations, Qatar Airways has a modern fleet of 146 aircraft flying to 146 key business and leisure destinations across six continents. Qatar Airways has more than 340 aircraft on order with a value of US $70 billion.
For more information, visit the homepage www.qatarairways.com or the company sites on Facebook, Twitter, Google+, Instagram, and YouTube.