Hilary Devey : The Queen of UK distribution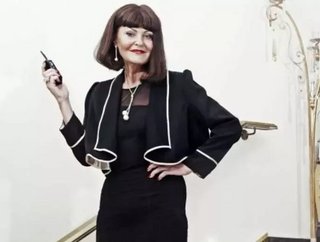 Follow @Ella_Copeland Award winning entrepreneur and founder of leading UK distribution network Pall-Ex, Hilary Devey is, in her own words "livin...
Award winning entrepreneur and founder of leading UK distribution network Pall-Ex, Hilary Devey is, in her own words "living proof that if you set your mind to do something, anyone can achieve amazing results". A role model for female entrepreneurs around the world, she spotted a gap in the European distribution market for delivering small palletised freight consignments in 1996, and founded the Pall-Ex Group, which is ranked amongst the UK's leading logistics providers. Facing incredible odds which led to her selling her house and car to start her business, Hilary has driven her company to a market leading position and is in the process of expanding into Europe. Now giving advice and support to prospective entrepreneurs on the BBC TV show Dragon's Den, Hilary spoke to Supply Chain Digital about Pall-Ex, the challenges of being an entrepreneur, and the 'gut instinct' needed to begin your own business.
 1. How did you come about with the idea for Pall-Ex and what made you so convinced it would be successful?
Having already worked in the logistics industry, I'd spotted areas that didn't seem to run as efficiently as they could. I knew that I had a very simple idea that could change things dramatically. I wanted to set up a central hub with a haulier membership, to quickly and cost-effectively deliver small consignments of palletised freight.
I was confident that it would increase operational efficiencies and cut costs for both the haulier and the end customer. Unfortunately, not everyone shared my vision and it's well documented that I ended up selling my house and car to finance it.
Pall-Ex had humble beginnings to say the least, with a base in an old RAF hangar without running water or electricity. This gave me a new goal, to get membership to such a level that we could move into new premises, which was achieved in 2003.
Ever since then, I've always had a goal to motivate both myself and my team, with the current ones being European expansion and growth in new sectors in the domestic market too.
And that's probably part of the reason that it's been such a success – that I've always been looking ahead, seeking out the next opportunity and setting the next goal.
2. What makes Pall-Ex different from other distributors worldwide?
Aside from our proven track record, Pall-Ex offers a range of services that are specifically tailored to certain sectors, like our Retail Plus service which is tailored to retailers' needs rather than those of distributors, and our bespoke service for ASDA.
We also find young new talent to supervise our European networks through our Graduate Trainee Scheme. They're often foreign nationals from the country in question, which gives us a fantastic advantage.
We're different in our approach to the running of our European networks. Whereas other companies take their own teams over to manage networks abroad, we team up with a National Partner to run the network in that country. So it's more of a franchise-style model, which means lower costs and increased flexibility.
3. Pall-Ex is currently growing into Europe - how far do you hope to expand?
We want to become the first pan-European palletized freight network, providing a consistent service right across the continent. To do this we're planning to have launched networks in 15 European countries by 2015. We've already launched in Italy, Romania and the Iberian Peninsula, and we're due to launch in France and Poland soon. 
4. As a self-made entrepreneur, did you undergo much training to get to the role you are in now?
Before I started Pall-Ex I had already worked for other logistics companies. Most of my training per se is based on my experience in the industry. I think that the best skills you can have in business are tenacity, willpower and the refusal to give up.
5. Do you have any plans to expand the services that Pall-Ex offer or invest in similar logistics companies?
My team and I are always looking for ways to drive the group forward – you can never afford stand still in this business. Pall-Ex will certainly follow opportunities that arise.
6. Do you have a particular decision making process when it comes to making business choices?
It comes down to a gut instinct. There's no recipe for building a successful business. You have to judge each situation individually and go with what your senses tell you, because what might work for one set of circumstances has no guarantee of working for another. You need that internal compass.
7.What is the primary piece of advice you would give to anyone running a freight network?
I think the best advice is to be fast and efficient. Tailor your services to your clients, whether it be for pallets or other freight, so that you can develop a range of offerings. Above all, make the process as smooth and consistent as you can.
8. Having started one business, would you do it all over again given the chance?
Of course I would. When you've gone through all of the challenges and struggle of growing a business and then come out on top, you do realise that the thrill is in the chase and the immense feeling of pride that it gives both you and your team. That's partly why Pall-Ex continues to grow and expand across Europe.
9. What do you look for as an investor on Dragon's Den?
I look for innovation, but most importantly, determination. A great business idea needs to either fulfil an existing need, or alternatively prove compelling enough to create a need on the part of the customer. However, what is crucial is the desire on the part of the would-be entrepreneur to put their heart and soul into the project. 
10. Does the person matter more than the business model when it comes to investing in a business?
No, it is a combination of the two. But a great business idea with a person with a 9-to-5 mentality is effectively dead in the water.