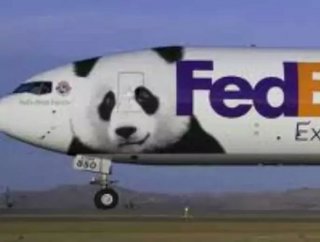 Written by David Cunningham 1. The history of panda transportation. How long has China been loaning the animals to parts of the world, and traditionall...
Written by David Cunningham
1. The history of panda transportation. How long has China been loaning the animals to parts of the world, and traditionally speaking, how did they get to those places?
Although I cannot speak on behalf of China on its loaning of pandas, what I can tell you is that FedEx has been involved in the successful transportation of ten pandas since 2000 to a variety of destinations including:
•  Huan Huan and Yuan Zi from China to Paris in January 2012
•   Tian Tian and Yang Guang from China to Edinburgh in December 2011
•   Tai Shan and Mei Lan, from the U.S. to China in February 2010
•   Le Le and Ya Ya, from China to the U.S. in 2003
•   Mei Xiang and Tian Tian (Tai Shan's parents) from China to the U.S. in 2000.
At FedEx, we have taken extreme care in the transportation of the pandas by arranging for specially-chartered flight known as the "FedEx Panda Express".
2. Take me through the timeline for the panda's FedEx journey from China to their destinations. Are the panda's prepped for flight at all? What specific needs do the pandas have throughout the journey? Are they in cages or able to move about freely?
Let me take you on the journey of Tian Tian and Yang Guang from China to Scotland. Before our VIPs, Very Important Pandas, board the "FedEx Panda Express", a specially-decaled Boeing 777F, FedEx worked closely with The Edinburgh Zoo, the Royal Zoological Society of Scotland (RZSS), the China Wildlife Conservation Association (CWCA) and Chengdu's Bifengxia Panda Base to ensure all necessary steps were taken to provide a safe and comfortable flight for the pandas.
A special FedEx Express crewmember, known as a Loadmaster, traveled with the pandas to ensure the best conditions were always maintained in the aircraft. Animal care experts from Chengdu's Bifengzia Panda Base and Edinburgh Zoo were granted special flight privileges to accompany the pandas onboard the plane for the duration of their trip. Only the most experienced FedEx Express team members worked on these special deliveries, both on the ground and in the air.
On board the "FedEx Panda Express", the pandas travelled in utmost comfort in two spacious custom-built containers that were specially built to allow them complete freedom to move around and observe their surroundings through transparent Plexiglass. Their in-flight menu was also carefully prepared and included a selection of bamboo, apples, carrots, a special panda cake and mineral water. Panda food and toys were the only shipment on the aircraft.
Upon arrival at their destination, FedEx Express vehicles then transported the pandas in a police cavalcade from the airport facilities direct to the zoos so that they can recover from their travel as quickly as possible.
3.  Why was FedEx chosen to handle this operation? A history behind the company's Panda operations would be helpful here as well.
FedEx Express is uniquely qualified to fly special cargo because of our unparalleled network, our dedicated employees, and our proven expertise in handling delicate cargo.
As mentioned earlier, we have a long history of providing safe travel for some of the world's most delicate cargo.
In addition to transporting giant pandas to varied locations around the world, FedEx has also transported exotic cargo such as polar bears, white tigers, elephants, penguins, mountain lions, gorillas, eagles and even a 13-foot tiger shark which was used in filming the movie "Jaws."
Besides FedEx FedEx's extensive experience in handling delicate cargo, the FedEx Boeing 777F allowed Tian Tian and Yang Guang to travel in comfort and arrive in Edinburgh in the fastest time possible. The Boeing 777F is the world's largest twin-engine cargo aircraft and gives FedEx customers an environmentally-responsible, competitive advantage by flying farther on less fuel while carrying more cargo than the MD-11s they replace.
4. Any interesting relevant panda stories that I can share with my readers?
As the world's largest express transportation company, FedEx has handled a range of special deliveries but shipping giant pandas is a special commitment due to the symbolism behind their move across the world. Their transportation requires an incredible amount of time and research beyond the actual flight, from the preparation of our "FedEx Panda Express" to their onboard care, and even to the individual personalities of each animal to determine how they will respond to the flight.
One of the team members who contributed significantly to the safety of the pandas on the flight was Vince Buscarino. As FedEx Express Senior Charter Loadmaster, he accompanied the pandas to Scotland and France, and coordinated all the air and group support service associated with the charter flight. He had to consider the personality and behavior of the pandas in order to accurately prepare a comfortable on-board environment for them, and position their enclosures accordingly. When two previous giant pandas were flown from the US to China in 2012, their enclosures were specially arranged in order to keep them in visual contact with each other in order to improve their onboard experience.