FedEx breaks ground at New York sustainable hub development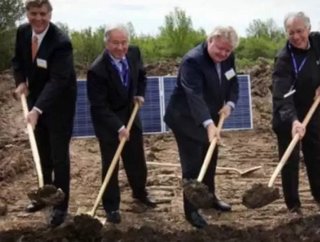 FedEx Trade Networks has officially broken ground at its future hub at the Riverview Solar Technology Park in Tonawanda, a $5.2 million investment whic...
FedEx Trade Networks has officially broken ground at its future hub at the Riverview Solar Technology Park in Tonawanda, a $5.2 million investment which will consolidate a number of the company's locations and functions.
Based in New York's first solar-ready business complex, the 25-acre build-to-suit facility will provide the company 55,000 square feet of warehouse space and 33,000 square feet of office space across two floors.
The complex will help the company meet their sustainable objectives by generating clean power through low-cost solar and hydro-energy. The Riverview Solar Technology campus demonstrates environmental corporate responsibility through a committed investment into renewable energy and green building best practices, seeking LEED (Leadership in Energy and Environmental Design) certification. 
Strategically situated, Riverview Solar Technology Park is just 10 miles from the Canadian border and the province of Ontario, with quick access to both highways and rail. The solar campus is also recognized as a New York State Shovel-Ready Certified Site, and is known as a "low-impact green business park," limiting the unnecessary removal of trees for the convenience of construction.
State and local officials were on hand to welcome FedEx Trade Networks and comment on the impact of the move.
"Conducting business in an environmentally sustainable way is important to FedEx Trade Networks. Our involvement with the Riverview Solar Technology Park illustrates our commitment to our customers, and the local community, to seek out innovative processes to streamline our operations and reduce our carbon footprint," said Fred Schardt, president & CEO, FedEx Trade Networks. "We're proud to be part of New York's first commercial solar project development and we look forward to doing environmentally sound business in the Town of Tonawanda and Western New York region for years to come." 
"Moving into Buffalo-Niagara's first Building Integrated Photovoltaic (solar energy) business park demonstrates the fact that FedEx Trade Networks does indeed embrace the benefits of doing business in a manner that lessens its impact on the surrounding environment," said Matthew Montante, chief operating officer for TM Montante. "We hope this move will serve as an example for other industry-leading companies to strongly consider the advantages of establishing offices in similar clean power office parks."
As previously reported, FedEx Trade Networks brings $5.2 million to the deal, while New York State has committed $2.56 million in Excelsior tax credits to the build. And just this past month, the Erie County Industrial Development Agency (ECIDA) granted $1.9 million in tax abatements to the project. According to FedEx Trade Networks, construction will begin this month and the first wave of company employees is projected to move in toward the end of 2013.