Coca-Cola-Enterprises keeping the Christmas cheer flowing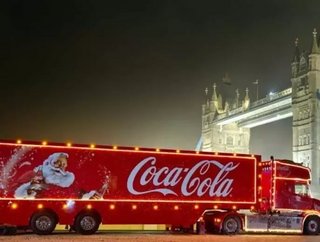 Follow @SamJermy and @SupplyChainD on Twitter.Christmas is a wonderful time of the year. For us at Coca-Cola Enterprises (CCE), the festive period is bo...
Follow @SamJermy and @SupplyChainD on Twitter.
Christmas is a wonderful time of the year. For us at Coca-Cola Enterprises (CCE), the festive period is both exciting and challenging.
Soft drinks are a hugely important category for our retailers year round, but especially so at Christmas. To ensure we're delivering supply chain excellence and meeting our customers' and shoppers' needs during this critical trading period, we build and execute a complex and integrated plan. Our supply chain must remain customer-centric, agile and prepared for any unforeseen fluctuations in demand.
While demand increases across our service region in Western Europe in the run up to Christmas, we also offer a wider range of merchandising options to our retailers, which can add further complexity to our already extensive supply chain; we have 17 sites across Europe and deliver 600 million cases per annum.
The festive period hits stores earlier each year, which means while working with our customers, we need to be one step ahead. Christmas has been months in the planning at CCE and we look at all the eventualities, including bad weather and increased road traffic, to ensure we deliver the best service for our customers.
While Christmas Day falls on the same date every year, the day of the week on which it falls changes, which affects the flow of sales. This year, for instance, Christmas is on a Thursday, which means most people will continue to celebrate and consume over the weekend. If the big day falls on a Monday however, people will return to their usual consumption patterns sooner.
Our supply chain needs to react to these nuances accordingly. Collaborating and sharing aligned forecasts with retailers and haulers ahead of time makes a huge difference to securing great availability.
Typically Christmas stock-building starts around the first week in November, but dispatching generally starts from the first week of December. This means our manufacturing teams need to be agile enough to have stock on the floor, but also build in headroom for peak times.
The technology and systems in our facilities can also help us save time. Earlier this year we opened a new €20 million Automatic Storage & Retrieval System at our distribution centre in Dongen, The Netherlands. The new facility is designed to hold and automatically move pallets of bottles and cans, enabling us to more efficiently serve the needs of our customers, as well as to maximise the cargo space used in trucks.
Such technologies can be of real value to our retailers. For example, our pre-merchandised semi-pallets that are built online are very important at Christmas. As whole merchandising units they are easy to move through depots (and two can fit on one pallet at a time). This also makes it easy and less labour intensive for stock replenishment in stores, which can be crucial to our customers when they are so busy in store. Equally shoppers tend to buy packs rather than individual products at Christmas-time, so this is a win-win strategy.
While long-term preparation is key, manufacturers and retailers still have a lot of work to do in the lead up to the big day. In Great Britain, our operations stay open seven days a week, except for Christmas Day, but some deliveries are even made on Christmas afternoon - whenever our customers are open so are we!
Although Coca-Cola is a global brand, we are a local business and almost 95 percent of our drinks are made in the country in which they're sold. By making and distributing our products in the same region it creates efficiencies and allows us to flex towards our customer's needs. This is particularly important at this time of year; with over 30 percent of our Christmas volume across Europe delivered within a 36-hour period.
We use regional sales teams and staying close to them and making sure we know what is happening in-store is critical. The legendary Coca-Cola Christmas trucks in Great Britain are a great example of a marketing campaign that drives real excitement and festive cheer amongst shoppers. Some even refuse to believe Christmas has arrived until they have seen a Coca-Cola truck!
It's a really important campaign that requires collaboration with all areas of our business from sales, to marketing to customer service. Sitting alongside the much-loved adverts, the trucks, which last year visited 52 locations in Great Britain, can ultimately drive sales in the regions they visit. It's easy to see why our supply chain teams need to be on standby to replenish stock sooner than usual when the trucks stop by.
Christmas is a busy time of year for our business. While it comes with its challenges, it also provides us with the opportunity to demonstrate the immense firepower we have across all our territories in servicing our customers.  It reinforces that we're willing to work tirelessly to support our customers and make sure that the festive season is a success for everyone, year in year out.