Arm: A Competitive Edge in Logistics through eSIM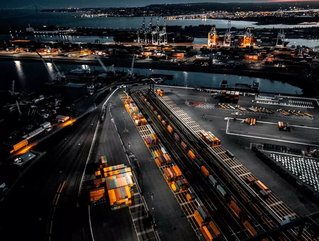 Supply Chain Digital explores Arm's whitepaper to find out how eSIM can equip manufacturers with a competitive advantage...
There are a number of challenges for companies responsible for merchandising and transportation to overcome. The way shipping and logistics firms operate has evolved and smart tracking solutions - whether its smart logistics devices or tracking add-ons implemented by manufacturers - are now playing an influential role in the digitalisation of logistics.
Traditional supply chains struggle to deal with disruption. The labour and goods shortages and increase in direct to consumer fulfillment experienced today applies pressure that can ultimately break a chain. A small increase in visibility can protect a critical supply. Increased visibility leads to automation, which then results in cost savings for everyone in the supply chain. Complete visibility manufactured from the beginning that follows items from factory to customer, creates resilient supply chains of the future that can withstand any disruption.
The eSIM technology will help to solve some of these challenges. As a result of eSIM, manufacturers can take advantage of IoT connectivity that is seamless, as it is embedded at the point of manufacture and can be deployed automatically out-of-the-box in any geographical region. eSIM technology provides a comprehensive range of benefits to manufacturers of connected devices for logistics and transportation. With the industry facing unprecedented challenges as a result of COVID-19, it is time for manufacturers to double down and lead the sector to ever greater visibility and automation.
Check out Arm's whitepaper to find out more about: 
The four steps towards embedded connectivity.
How eSIM simplifies selling internationally.
How embedded connectivity supports supply chain management and optimises last mile logistics.
How Arm partner Sensize became logistics pioneers.
Four Steps to Embedded Connectivity
Arm anticipates that 1 trillion new IoT devices will be produced by the year 2035, and an ever-increasing number of device manufacturers are helping this prediction become reality. From discussions with enterprises the world over Arm understands that complexity can be a barrier to larger IoT projects. Manufacturers can eliminate much of this complexity by providing devices with embedded connectivity that 'just works'
Take an eSIM.
Add a bootstrap profile.
Link a management platform.
Choose a network.
International Selling Simplified
If you produce smart logistics devices, eSIM technology can empower you to make international selling more straight-forward. No one operator can provide truly global connectivity, meaning logistics manufacturers that want to provide their product globally must contract with more than one operator to secure operator-specific SIM cards. Without eSIM, manufacturers must create and maintain separate product lines for each mobile network operator to account for the different SIM cards required, despite the fact that the underlying device itself is the same.
Tracking your products made easier
Adding a trackable embedded connectivity chip to previously unconnected products allows manufacturers to harvest a constant stream of data before, during and after the product is shipped. This provides end-to-end real-time visibility of their supply chain, which means that not only can they constantly monitor the status of products and take immediate action to protect their integrity, but it also optimises their supply chain and processes.
Case Study
Sensize develops IoT-enabled nodes that are pioneering better visibility for reusable packaging in the supply chain. The concept involves adding the latest tracking technology to humble pallets, crates, and containers that are shipped in their millions by retailers, fast-moving consumer goods (FMCG) and logistics companies.
These nodes feature thermal sensors to alert retailers to temperature excursions, accelerometers that record impact, and timers to log periods of refrigeration, all of which helps depict the current state and location of a consignment. The Cambridge-based start-up had already developed a proof of concept with two of the UK's largest grocery retailers and was about to win a major contract with a global courier distributing to the UK, Italy, Austria, Germany, China, and Russia.