A sea shipping timeline - from containers to supertankers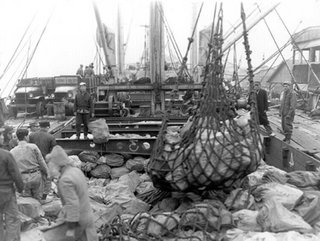 Sea shipping has come a long way since the first container ships were launched in the 1920. Today's firms, like Maersk & Nippon Yusen, are a world apart
The world economy runs on sea trade. Here, we trace ocean shipping - from the first ever container vessels to today's super bulk-carriers.
1929: First sea containerisation
In 1929, Seatrain Lines carried railroad boxcars on its sea vessels, to transport goods between New York and Cuba. Although containers had been used before on locomotives, ships allowed them to be hauled over much further distances, far more economically.
The specially designed ship, Seatrain was built in England and was followed in 1932 by two larger ships built in the United States, and in 1939 by two additional ships.
By the outbreak of World War II the company was operating five ships that became important in the war effort and basis for the design of 50 new ships for military use. A series of business setbacks amid the rise of containerized shipping left the company in perilous financial condition in the 1970s. Seatrain Lines shut down in 1981 after filing for bankruptcy.
1931: First container ship
The first ever container ship — the Autocarrier, owned by Southern Railway UK — was launched. It had 21 slots for railway containers. From the late 1940s, T2-class oil tankers were converted into container ships, because there was a surplus of tankers following the end of World War II. From the late 1940s, T2-class oil tankers were converted into container ships, because there was a surplus of tankers following the end of World War II.
1956: Shipping container patented
In the 1950s, the world was still recovering from the Second World War, and it was war that had shown nations the possibilities of global logistics. This planted a strong desire for trade to become more international in scope.
Then along came US logistician Malcolm McLean, who in 1956 patented his 'intermodal shipping container'. His background was actually in haulage, not shipping. But keen to expand into new territories, he acquired two WWII oil tankers, and formed the Sea-Land Shipping company. These he converted into the world's first container vessels. The maiden container journey was in April 1956, when the SS Ideal X in April 1956 carried 58 containers from New Jersey to Texas.
McLean's invention would go on to revolutionize transport and international trade in the second half of the twentieth century. Containerization led to massive savings on freight transport, by removing the need for multi-staged handling of individual cargo items, and cut inventory costs by shortening transit time. Containers also improved reliability and cargo security.
Today, there's around 17 million shipping containers in use globally. The number of containers at sea at any one time is said to be roughly 5 million, while 200 million container trips are made every year.
But it wasn't until McLean came along that the world had a container around which a global freight network could be built. Like many of the world's most important inventions, it was as much the timing of it as its ingenuity that would prove telling.
2006: Maersk Triple E Class container ships
This remains the world's biggest container ship. Triple E stands for Economy of scale, Energy efficiency, and Environmentally improved. It has a capacity of 18,000 twenty-foot equivalent unit (TEU), which is a unit of cargo capacity used for container ships based on a typical 20-foot container.
2010: Largest bulk carrier launched
A bulk carrier — or bulker — is a merchant ship designed to transport unpackaged bulk cargo, such as grains, coal, ore, steel coils or cement. The first super-bulker was MS Vale Brasil, which was launched in 2010. It can carry 440,000 tons of dead-weight cargo.