Traceall Global tracks new business overseas thanks to UKSE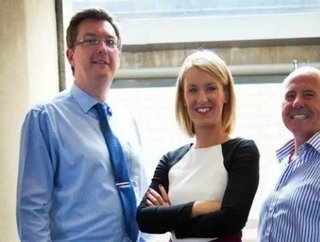 UK Steel Enterprise (UKSE), the Tata Steel subsidiary tasked with economic regeneration, has invested a six figure sum in high-tech tracking and monitor...
UK Steel Enterprise (UKSE), the Tata Steel subsidiary tasked with economic regeneration, has invested a six figure sum in high-tech tracking and monitoring expert Traceall Global Ltd to create new jobs and extend the company's market reach.
Traceall Global Ltd provides companies, predominantly within the food and drink sector, with products and software designed to monitor multiple critical variables such as temperature, humidity, flow rate,  CO2, location, and impact through the supply chain using state-of-the-art sensors and sophisticated software, as well as managing detailed supplier and product information for major brands nationally.
The company has already employed three members of staff since the start of the year and is recruiting a further three this month with the intention of creating another 14 jobs by the middle of next year due to Traceall Global's rapid growth.
The additional members of staff will include software developers, installation and support engineers, commercial and support staff and administrative support.
Famous names including The Coca Cola Company, Jamie Oliver Group and Selfridges are already using Traceall Global's services to monitor their products and better manage their business.
Scott Webb, regional executive at UKSE said: "Traceall Global is providing unique and innovative technology and services from Scotland to some of the biggest brands around the globe.
"It is very exciting for UKSE to be investing in a company with such huge potential and an already strong market presence.
"While the company is making deals worldwide, the management team is committed to creating jobs for local people in Lanarkshire which is exactly the kind of business we are keen to support."
Traceall Global has recently secured a seven figure contract with The Coca Cola Company to provide the drinks giant with global asset tracking and is about to embark on a major pilot project in the US with one of the world's biggest brands.
Alan Steele, managing director at Traceall Global said: "This is a really exciting time for our business and we are looking forward to seeing where this investment takes us.
 "The investment will allow us to introduce our technology to new international markets and we have already been able to put our brand in front of companies across the Atlantic, with several new exciting business opportunities arising as a result.
"It is extremely encouraging to have UKSE's support and the financial backing has given us a platform to promote our business and to put ourselves in front of key industry contacts."
Traceall Global is based at UKSE's Grovewood Business Centre, within Strathclyde Business Park, in Lanarkshire. Alan added: "UKSE's managed workspace has given the company a real sense of identity and purpose.
"The space adapted well to our business requirements and having such a base has enabled us to progress as a team. And being based in Bellshill has not hindered our growth into global markets at all; in fact, it has helped the team to service our customers far more effectively"
UK Steel Enterprise, formerly British Steel, was the first organisation to introduce the managed workspace concept into steel areas.
UKSE offers office and workshop accommodation in a range of different-sized units whilst offering tenants a variety of business support services.