Supply Chain Risk Management
Top 10 supply chain influencers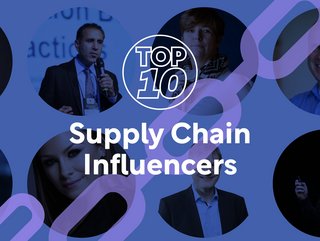 Top 10 supply chain influencers
With some challenging years in supply chain, it's been the brightest, most knowledgeable thinkers that have made the biggest difference – here's 10 of them
Supply chain is experiencing a period of turbulence and change, the likes of which hasn't been seen in at least a generation. Those who have the greatest insight into this situation are the management consultants, technology providers, academics, business analysts and executives who are most closely connected to it. Here, we pick 10 supply chain influencers whose insight, knowledge and experience help to shape the industry.
10. Lora Cecere, Founder, Supply Chain Insights
Supply Chain Insights was founded in February 2012 by Cecere. Research is at the centre of what Insights does, with its offerings including speaking, advisory services, community enablement and training.
"We want to be the first place supply chain leaders turn to help their supply chain teams get better," she says.
She is also co-author of the book, Bricks Matter: The Role of Supply Chains in Building Market-Driven Differentiation.
09. John Kern, SVP, Supply Chain Operations, Cisco
Kern leads a diverse global team responsible for: manufacturing, new product introduction, product lifecycle management, sourcing and supplier management, planning, logistics and product quality. He has led efforts to digitise Cisco's supply chain, as well as evolving Cisco's growth in software and cloud-delivered solutions.

Kern is leading the company's circular economy effort and is serving as the executive country sponsor for India and Brazil.

08. Omid Ghamami is CEO of the Procurement and Supply Chain Management Institute (SCMI)
Professor Ghamami built his career in procurement, starting out at Intel before founding SCMI – a certification body to which half of all Fortune 100 companies belong. He is also a speaker, executive coach and author, and is seen as one of the world's top procurement experts on supplier sourcing and supplier development.
07. Ivanka Janssen, Chief Supply Chain Officer, Philips
Janssen is an experienced supply chain leader with 21 years' international management experience in: operations, manufacturing, supply chain, route-to-market, logistics, customer service and procurement. She is focused on creating a competitive edge.
Prior to her role at Philips, Janssen served as VP Supply Chain, Europe, Eastern Europe and Sub-Saharan Africa at PepsiCo.
"The more you can reflect society in your work environment, the closer you are to where consumers and customers are," she says of diversity in the workplace.

06. Dr Chris Caplice, Freight Academic, MIT
Dr Chris Caplice is a pioneering freight academic at the Massachusetts Institute of Technology (MIT), where he has established a reputation as one of the world's foremost authorities on logistics.
Dr Caplice founded and co-directed MIT FreightLab, a position he has held for 15 years. The purpose of the FreightLab is to drive innovation in freight transportation planning and operations, and then drive them into practice. The ultimate goal is to reduce cost, minimise risk and increase service levels.
FreightLab's many achievements include developing methods for forecasting both short-term spot-market rates and longer-term contract rates.
05. Wolfgang Partsch
Keith Oliver is widely held to have introduced the world to the term 'supply chain', but he wasn't the mind that formulated the ideas behind it – that honour goes to thought leader Wolfgang Partsch, whose LinkedIn profile has him as the 'Inventor of Supply Chain Management (SCM)'.
Partsch first discussed SCM as an approach in the German business magazine, Wirtschaftswoche, in 1982, yet his thinking has never held more sway.
"My vision was to break up information silos," he says. Sound familiar?
04. Martin Barkman, Senior Vice President, Global Head of Solution Management, Digital Supply Chain at SAP
As a chemical engineering undergraduate at Cornell University, Barkman took classes with Pulitzer Prize-winning astronomer, writer and broadcaster Carl Sagan.
He joined SAP in 2013 when it bought partner company SmartOps, of which he was CEO. Since then, he has occupied various roles in supply chain management at SAP, most recently being responsible for solution management for its vast digital supply chain portfolio.

03. Sheri Hinish
Hinish – the self-styled Supply Chain Queen – is Principal of Global Sustainability Innovation & Ecosystem Leader for EY. Prior to that, she was IBM Consulting Global Sustainability Services Lead.
She has 46,000 LinkedIn followers, and for good reason: people want to hear what she has to say on sustainability, especially as it concerns supply chain.
"My purpose is to make a meaningful impact for the clients, colleagues, partners, and communities I serve," she says. "I help customers rethink, design and build future-fit enterprises and ecosystems that create impactful, equitable, and responsible change."
02. Knut Alicke, Partner & Head Of Supply Chain Europe, McKinsey
Alicke advises companies on supply chain management and digital supply chain transformations. He also leads the McKinsey Supply Chain Executive Academy, which helps build client capabilities.
He is a professor at University of Karlsruhe, where he teaches supply chain management. "Most supply chain execs say they need to improve by increasing supply chain visibility," Alicke has said.
He is also co-author of the book, From Source to Sold, which is a collection of insights from some of the world's leading chief supply chain officers.
01. Tim Cook, CEO, Apple
Apple CEO Tim Cook joined an ailing Apple as supply chain chief in the 1990s, and, with his just-in-time inventory genius, turned things around. Jobs dreamed up winning products; Cook delivered them.
As COO, it was Cook who ensured Apple's phenomenal growth by never allowing the supply of its products be outstripped by demand, even when demand was stratospheric. Little wonder Jobs handed the reins to Cook when terminally ill.
Today, Cook is looking to refashion Apple's supply chain by reducing its reliance on China. A tricky task, but if anyone can achieve it, Cook can.