Supplier ecosystems can offset effects of inflation - CGI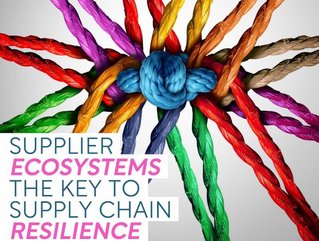 Maria Rey-Marston – Global Supply Chain Innovation at Accenture – says that, far from being linear, supply is now "a network of suppliers, plants, and transportation companies, as well as intelligent locations for placing products".
Supply ecosystems – network of suppliers, plants and transport firms – are the future for those seeking resilience, says Helena Jochberger of CGI
Today's world is so riven with uncertainty that it has become part of the 'new normal' for businesses. As such, organisations that want to thrive, not just survive, know how crucial it is that they are plumbed into supplier and partner ecosystems.
Speaking to Supply Chain Digital magazine in March 2022, Maria Rey-Marston – Global Supply Chain Innovation at Accenture – coined the term 'Demand Response Network'. She said that, far from being linear, supply is now "a network of suppliers, plants, and transportation companies, as well as intelligent locations for placing products".
Such networks are greater than the sum of the participating businesses. They enable organisations to collaborate with trading partners to streamline processes, create value in real time, and solve problems quickly, as they arise.
Helena Jochberger is Global Lead Manufacturing at CGI, the global IT and business consulting firm. She says that one area in which strong supplier ecosystems can help businesses is by offsetting the effects of inflation caused by supply disruption.
"With increasing uncertainty, the question of real-time scenario planning and multi-criteria risk management becomes more relevant. This is the point where data-driven ecosystems can provide significant support."
Supplier networks can help offset inflation, says CGI
But she says that, in order to share data, those in the ecosystem need:
Clear contractual frameworks with defined rights and duties.
To have trust in sharing their data
Data Standards in place.
"With the help of privacy enhancing technologies manufacturers can share data without disclosing intellectual property," Jochberger says. "If organised in the right way, data driven supplier ecosystems can help mitigate inflation by assuring supply in manufacturers' value chain.
Another area in which robust supplier networks and ecosystems pay dividends, says Jochberger, is in mitigating disruption.
Data ecosystems mitigate against disruption
"Data ecosystems support real-time supply in the manufacturing value chain. If one supplier is unable to deliver a part, they will know because of predictive forecasting, and another supplier will take over," says Jochberger.
Sustainability is another goal with which collaborative networks can help.
"Sustainability targets have become a business imperative, as financial institutions will no longer finance companies that are not adhering to ESG compliance," she continues. "Data-driven supplier ecosystems create transparency on emissions and wastage along the value chain, and because of this manufacturers will be able to reduce both."
Another supply chain professional in no doubt as to the importance of collaborative supply ecosystems is Tony Harris, Senior VP and Head of Marketing & Solutions with SAP Business Network, which enables organisations to collaborate with supply chain trading partners, including suppliers, logistics and services providers, asset operators, and maintenance contractors.
Supplier ecosystems can reduce business costs
"We've seen the effect of recent disruptions on supply chains, exposing their fragility. Because a business network can provide visibility across the supply chain, companies can anticipate issues that may arise," explains Harris. "This allows them to adapt and react quickly, avoiding unnecessary costs due, for example, to shipment delays."
Harris echoes Jochberger's point about business networks enhancing resilience through greater visibility. "Companies can reduce costs through their ability to identify and work with the most efficient and low-cost logistics supplier for order fulfilment. This enables businesses to reroute shipments through a logistics business network, ensuring deliveries are handled quickly to meet customer expectations.
"Such networks make a company visible to new suppliers, and this larger supply base can lead to new relationships, which helps drive down purchase prices – further enhancing profitability and bringing new customer channels to light."
Harris identifies other ways in which such networks can help:
Boosting customer satisfaction – "One of the most important elements of running a successful business is having happy, referenceable customers," he says. "When organisations collaborate in real time and work in parallel, the customer benefits. Customer service is enhanced because the customer receives the value as the businesses in the network focus on their needs. This allows them to understand and satisfy customers' needs, solve fulfilment challenges in real time, and over-deliver on expectations.


Choosing aligned suppliers – On this, Harris says: "A business network provides transparency that allows companies to choose suppliers who best align to the company's values, processes, and their customers' expectations.
"For example, from a logistical perspective, it may be more beneficial and less risky to work with a local raw material supplier. Also, selecting suppliers who prioritise sustainability can help businesses achieve their environmental, social, and governmental (ESG) goals.


Increasing revenue – "Relying on a business network can help a company move beyond its local market to become part of a global network that continues to grow as more companies join," he says. "Business networks are multipliers for buyers, sellers, shippers, carriers, and even asset utilisation and maintenance.
"This helps companies expand into new global markets, find new customers, uncover new opportunities, and secure the suppliers needed to support these new business models. And with a global network of suppliers, businesses can be assured of supply during times of disruption, reducing stock-outs and revenue loss."


Increased connections – Harris states that "every transaction has two sides, whether this is the buyer and seller or shipper and carrier". This, he explains, is why networks can quickly expand: "When a buyer uses a carrier, that carrier becomes known to the seller, which can then become a new source for both businesses. As these two businesses transact more with others, the carrier may work for even more of their connections. This network effect is an excellent means for companies to broaden their customer base and trading partnerships."
​​​​​​​

Predicting risks and identifying opportunities – "Which of us wouldn't like to predict their own future to prepare for whatever comes our way?" he asks.
He adds that, in the context of business continuity and resilience, this ability should be no pipe dream. "The ability to address risk across the supply chain is mission critical," he points out.