Pandora and IBM digitise jewellery supply chain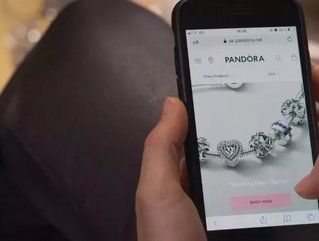 Jewellery retailer Pandora teamed with IBM to streamline supply chains as sales of hand-finished jewellery doubled across ecommerce platforms
Pandora has overhauled its global supply chain in partnership with IBM amid an ecommerce sales boom for its hand-finished jewellery. 
The company found international success offering customisable charm bracelets and other personalised jewellery though its chain of bricks and mortar retail destinations. But in 2020, as the COVID-19 outbreak forced physical stores to close, Pandora strengthened its omnichannel operations and doubled online sales. 
A focus on customer experience included deploying IBM's Sterling Order Management, increasing supply chain resiliency and safeguarding against disruption across the global value chain.
Pandora leverages IBM Sterling Order Management as the backbone it its omnichannel fulfilment, with Salesforce Commerce Cloud powering its ecommerce. Greater automation across its channels has boosted the jeweller's sustainability credentials, IBM said, streamlining processes for more efficient delivery. It has also given in-store staff and virtual customer service representatives superior end-to-end visibility to better meet consumer needs. 
Jim Cruickshank, VP of Digital Development & Retail Technology, Pandora, said the digital transformation journey has brought "digital and store technology closer together and closer to the customer", highlighting how important the customer journey remains, even during unprecedented disruption. 
"Our mission is about creating a personal experience and we've instituted massive platform changes with IBM Sterling and Salesforce to enable new digital-first capabilities that are much more individualised, localised and connected across channels and markets," he added. 
Pandora's pivot to digital 
The pandemic forced the doors closed at most of Pandora's 2,700 retail locations. To remain competitive, it pivoted to online retail. Virtual queuing for stores and virtual product trials via augmented reality (AR) technology went someway to emulating the in-store experience and retail theatre that is the brand's hallmark. Meanwhile digital investments in supply chain efficiency was central to delivering on consumer demand. 
"Consumer behaviour has significantly shifted and will continue to evolve with businesses needing to quickly adapt to new preferences and needs," said Kareem Yusuf, General Manager, AI Applications and Blockchain, IBM. "To address this shift, leading retailers like Pandora rely on innovation to increase their business agility by enabling and scaling sustainable supply chain operations using AI and cloud."
Yusuf said Pandora's success was indicative of how to remain competitive by "finding new ways to create differentiated customer experiences that protect their enterprises from disruptions to help mitigate risk and accelerate growth".