New Silk Road gaining international support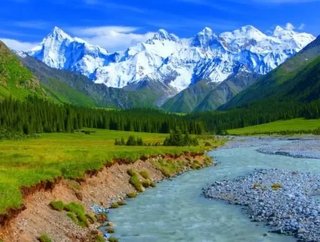 Follow @SamJermy and @SupplyChainD on Twitter.China plans to establish a new bank to fund development of the "New Silk Road", pouring billions...
Follow @SamJermy and @SupplyChainD on Twitter.
China plans to establish a new bank to fund development of the "New Silk Road", pouring billions of dollars into projects to revive intercontinental land routes and maritime links through central Asia.
The official China Securities Journal said related government departments would establish the "Marine Silk Road Bank", with a minimum paid-in capital of £521.2 miilion to be funded by the Marine Silk Road Investment Management Fund and by unnamed ASEAN member countries.
China's president Xi Jinping said on Saturday that China would put £25.5 billion into a special New Silk Road fund to drive investment in infrastructure, speed industrial and financial cooperation and "break the connectivity bottleneck" in Asia.
The initiative will also reduce China's dependence on freight lines dominated by European shippers and its exposure to sea lanes patrolled by the US navy, plus develop new markets for Chinese exports. Chinese stock markets have celebrated the news, seen as directing fresh spending toward infrastructure-related companies.
The goal of having a unified transport supply chain across the New Silk Road will benefit not only China, but will positively impact Kazakhstan and eastern European countries such as Lithuania.
Open the opening of the China Silk Road International Logistics Expo, Deputy Minister of Transport and Communication of the Republic of Lithuania, Arijandas Šliupas, said: "The New Silk Road is a foundation of integration policy, while logistics and transport are essential elements of it"
According to the representatives of Lianyungang province, China hopes to enhance cooperation by connecting the European and Asian continents with the epic freight route, trailing from China through Kazakhstan and into Europe. Therefore, a tremendous achievement would be reached if single transport system connecting the Baltic Sea and the Pacific Ocean through Lithuania was created.
Lithuania has ambitious and motivated workforce along with modern developed infrastructure. In addition, the country is partnering in such international projects that impact the whole region. Therefore, Lithuania, in Europe, can become a strong reference point for the New Silk Road.
According to the Chinese representatives, they do highly appreciate that experienced so-called transport countries as Lithuania are participating in the project, and underline that the conference represents a great platform for consultations.